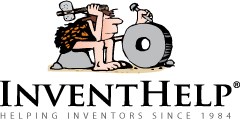 Pittsburgh, PA (PRWEB) December 04, 2013
InventHelp, a leading inventor service company, announces that one of its clients, an inventor from Maryland, has designed a device to make a ladder more stable when resting against a curved or flat surface. This invention is patented.
The "Universal Stabilizer" could adapt to the curvature of the house to offer stability when climbing a ladder. The ladder could be positioned closer to the work area, and would help to enhance safety when working. The invention could also eliminate the need to walk back and forth to the truck to retrieve different ladders. The Universal Stabilizer enables one ladder to be used for multiple tasks, saving the user time, effort and money.
The ladder stabilizer apparatus provides for the removable attachment to two rungs of a ladder. The case provides pivoting sleeves that may be indirectly or directly controlled by the apparatus crank, whereby either the sleeves or the sleeves with arms with optional vertical rollers are moved toward and away from the ladder. Rollers are provided for a given surface contact with the apparatus. Movement of the sleeves and the sleeves with arms provides for the contact devices to be positioned partially around a structure or object corner, within a corner or any position in between. The contact devices may be positioned outside boundaries of a window, for example, to provide a user best access to a window or other area that is not designed to have a ladder rested against it. The apparatus may be adjusted while in use.
"I know that contractors and homeowners are looking for better, easier ways to get the job done, in addition to safety and saving time and money," said the inventor. "I have a lot of experience using ladders, and I came up with a way to make one ladder adaptable for use for many different jobs."
InventHelp is attempting to submit the invention to companies for review. If substantial interest is expressed, the company will attempt to negotiate for a sale or royalties for the inventor. For more information, telephone Dept. 09-BTM-648 at (800) 851-6030.
Manufacturers interested in reviewing additional inventions and new product ideas can contact InventHelp's marketing partner Intromark by filling out an online request to review new product ideas here.
# # #