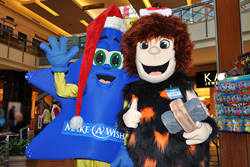 PITTSBURGH, PA (PRWEB) January 09, 2015
InventHelp's company mascot, CAVEY the Caveman will join his fellow Pittsburgh-area mascots at the 28th Anniversary Mascot Skate at Schenley Park Skating Rink in Oakland on Saturday, January 10th from 1:30 to 3:30 in the afternoon.
He'll be rejoining his mascot friends that include Iceburgh of the Pittsburgh Penguins, Pirate Parrot of the Pittsburgh Pirates and Smiley Cookie of Eat 'N Park Restaurants. This year, in honor of the 40th anniversary of the Schenley Park Skating rink, there will be some 40 mascots on hand to celebrate, weather permitting.
Schenley Park is named after Mary Schenley who, in 1889, gave the city 300 acres of Mt. Airy Tract with an option to purchase 120 more, provided the park be named after her and never sold. The city bought the extra acres in 1891, and later purchased some adjoining land to complete the park.
"Pittsburgh companies and organizations have so many fun mascots," said Nicole Lininger, InventHelp's Director of Corporate Communications. "It's an honor to have Cavey included in such worthy company."
All of the mascots will be on the ice and parents are encouraged to bring cameras to capture the special moments as children take to the ice with the mascots. For information about skate rentals and entrance fees, please visit : http://pittsburghpa.gov/citiparks/mascot-skate
InventHelp and Cavey celebrated the company's 30th anniversary on September 30th last year at the City of Pittsburgh Council recognizing CAVEY DAY.
Headquartered in Pittsburgh, PA, InventHelp is a leading inventor service company, with regional sales offices in more than 60 cities in the United States, Canada, South Africa, Korea and Australia.
InventHelp submits our clients' inventions, products or ideas to industry in an attempt to obtain a good faith review. For more information about InventHelp services, visit our website here or call 1-800-INVENTION.
In addition, InventHelp produces INPEX®, the largest inventor trade show in the U.S., here in Pittsburgh every year, which will celebrate 30 years June 16-18, 2015. InventHelp, 217 9th Street, Pittsburgh, PA 15222-3506.
# # #