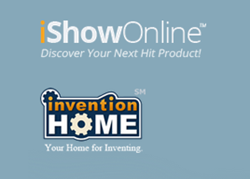 Pittsburgh, PA (PRWEB) August 01, 2015
Today, InventionHome™ announced the launch of their new and improved iShowOnline™ invention marketplace. In the current competitive business environment, more and more companies are eager to tap in to the creativity and ingenuity of independent inventors and entrepreneurs. Discovering those inventions, however, has traditionally been a difficult and time consuming task for companies.
The newly re-engineered iShowOnline™ is a unique venue that solves that problem by giving companies direct and streamlined access to a wide variety of product ideas from inventors. The iShowOnline, in combination with InventionHome's proactive marketing program, is a valuable and easy-to-use resource for companies looking for exciting product licensing opportunities.
InventionHome™ has been a long standing bridge for connecting inventors looking to license their invention ideas or existing innovative products with companies willing to pay royalties for new inventions. InventionHome™ assists inventors with getting their products ready for market, including patent filing, design work, and the preparation of professional and informative invention portfolios. These portfolios are then featured on the iShowOnline™ and proactively presented to companies seeking those types of inventions.
Companies looking for a convenient way to tap into fresh sources of innovation need only register with InventionHome™ to get exclusive access to the iShowOnline™. Upon registration, InventionHome's marketing team also works to get companies set up to receive product alerts for ideas hand picked to suit their potential needs. As an added service, the marketing team works with companies to facilitate their review and evaluation of products and to navigate license negotiations with inventors.
Request a FREE inventor's kit for help with a new invention idea.
If a company representative is interested in learning more about the iShowOnline™ and how it can benefit their organization, simply visit the ishowonline.com or call 1-866-844-6512.
About InventionHome:
InventionHome is an invention and product marketing company focused on helping inventors and entrepreneurs through the invention and patent process with the ultimate goal of licensing or wholesaling their client's inventions. For more info connect through Facebook, Twitter, LinkedIn, or Google+. See more products at InventionHomeProducts.com or more press releases at InventionHomePress.com.