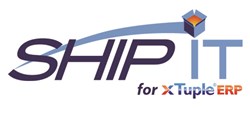 This expert customization for xTuple expands AKA's focus on delivering affordable, yet sophisticated, business management solutions to a broader U.S. audience.
Norfolk, Virginia (PRWEB) September 29, 2013
xTuple, makers of the world's #1 open source Enterprise Resource Planning (ERP), and AKA Consulting, a New York-based xTuple partner, today introduced ShipIt for xTuple – a software extension that streamlines the process of delivering products with leading commercial shipping companies.
"Package Processing: Introducing ShipIt for xTuple & PostBooks" is a special session to be presented by AKA president Alex Kleyff at the software company's first global user conference, xTupleCon, October 10-12, 2013.
ShipIt works on Microsoft Windows operating systems and is available in both Pro and Lite offerings in the xTuple xChange, the company's online marketplace.
ShipIt for xTuple allows for creation of multiple packages or boxes, and automatically and accurately calculates weight and insurance value from the xTuple ERP inventory. ShipIt also permits assignment of third party billing from a shipper account number stored in the xTuple customer record. Both versions interface with UPS, FedEx and USPS (Stamps.com) in the United States.
AKA's Kleyff said, "This expert customization for xTuple expands AKA's focus on delivering affordable, yet sophisticated, business management solutions to a broader U.S. audience."
Software innovator and ERP veteran AKA delivers xTuple's enterprise-level technology solutions to small- to medium-sized distributors and manufacturers in New York-New Jersey-Pennsylvania tri-state metro area.
About xTupleCon: Bringing together xTuple's open source ERP user community, attendees include customers, value-added resellers, technology partners, and users of the free and open source (FOSS) xTuple PostBooks. Other keynotes and sessions among the Business, Technology and Implementation Tracks include:
>>Dr. Michael Meskes, PhD, CEO of credativ and the international Open Source Support Center (OSSC) on "World's Most Advanced Database: PostgreSQL, Open (Source) for Business"
>>Howard W. Coleman, MCA Associates - Operational Excellence in Wholesale Distribution & Manufacturing on "Moving Lean Supply Chain Thinking Forward"
>>Jeff Gunderson, xTuple Midwest USA, on "Integrating Business Intelligence with your ERP: Improve company performance with powerful reporting, analytics and dashboards" with Pentaho for xTuple ERP"
>>Bob Taslinger, Data Net, on "High-Volume Inventory Business Control with Wireless Devices"
>>Roy Sutton, webOS Community Manager at LG Silicon Valley Labs, on "Innovation is Open"
xTupleCon's complete agenda may be found at http://www.xtuple.com/xtuplecon-2013-agenda.
Tweet this: @xTuple: Inventory-centric Manufacturing and Distribution's ShipIt Integration for xTuple ERP Debuts at #xTupleCon13 http://ow.ly/phWZa.
About xTuple, World's #1 open source ERP
xTuple, selected for InfoWorld's 2013 Bossie Awards as best open source business application, is business management software to give growing companies control over operations and profitability. xTuple integrates all critical functional areas in one modular system: sales, accounting and operations – including customer and supplier management, inventory control, manufacturing and distribution – the powerful tools to Grow Your World®.
As a commercial open source company, xTuple works with a global community of tens of thousands of professional users. xTuple gives customers the ability to tailor solutions with multi-platform support for Windows, Mac, Linux and mobile as well as flexible licensing and pricing options. Connect with the company at xTuple.com, with the open source community at xTuple.org, and join the innovation conversation at NextBusinessBlog.com.
About AKA Computer Consulting, Inc.
Since 1995, AKA Computer Consulting has established an outstanding reputation in the NYC Metro and Tri-State area for first-class implementation of ERP and business management systems, innovative and flexible custom software development and an unbeatable dedication to customer service. Centrally located at 1412 Richmond Road, Staten Island, New York, 10304. For a complimentary demonstration, contact AKA Consulting at +1-888-351-8355 or via email at sales(at)akaconsulting(dot)com.
Reference the xTuple Style Guide (xSG): xTuple.com/xSG