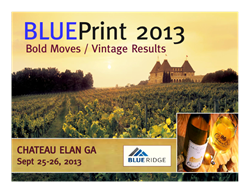 We benefited by implementing some of suggestions made during the roundtable sessions...BLUEPrint offers a format to learn from others across different industries.
Atlanta, Georgia (PRWEB) August 06, 2013
On September 24th, Blue Ridge will begin hosting its annual demand forecasting and inventory replenishment conference. The company is excited to unveil new tools and analytics dashboards for their CLARITY Replenish solution and Lifeline Visibility service offering. This year's conference, to be held at Château Élan in Braselton, Georgia, will provide attendees with best-practice seminars, roundtable events, and guest speakers from global supply-chain leaders.
With a growing number of attendees, BLUEPrint 2013 promises to be an opportunity to take in the latest strategies and tools in forecasting and replenishment. Past attendees have noted one of the most rewarding values is being able to share knowledge with other supply chain professionals. BLUEPrint cultivates networking between attendees to advance best-practice ideas. "We benefited by implementing some of the suggestions made during the roundtable sessions," stated Stein Mart's Merchandise BI Manger Mark Agee. "BLUEPrint offers a format to learn from others across different industries."
This year, attendees will get a firsthand look into breakthrough forecasting and replenishment tools, which can provide organizations with greater visibility and heightened performance across the supply chain. Real-time analytics and other features help enterprises react to supply chain events, optimize their forecasting and replenishment practices, and turn inventory intelligence into profit.
Industry-leading guest speakers will tailor presentations for Presidents, CFOs, VPs, Managers, and other supply chain leaders. The sessions will discuss exclusive insights and methods on solving demand forecasting and replenishment challenges. "It's very inspiring to listen to other companies tell their story…what they're struggling with. And in fact, they are struggling with the same things we are, even if we are a thousand miles away on a rock in a fjord in Norway," commented Roger Bruarøy, Purchaser at Brødrene Dahl AS.
Blue Ridge is anticipating a large collaboration between all guests involved, resulting in new ideas and strategies for success. "Past BLUEPrint Conferences have generated so many opportunities for attendees to take back the knowledge they acquired and better their organization," stated Dan Craddock, President at Blue Ridge. "We expect this year's conference to have an even greater number of attendees and many new success stories to be shared."
About Blue Ridge
Blue Ridge leads the way in enterprise-class Software-as-a-Service supply-chain solutions. Blue Ridge solutions and services turn inventory investments into cash flow and revenue generation opportunities. The company's robust cloud-based solutions deliver a tightly-integrated, yet flexible architecture for demand analytics, forecasting, planning, replenishment, SKU rationalization and other demand-driven optimization solutions to provide a sound foundation on which companies can solidify and enhance their supply chain initiatives. To find out why global supply chain leaders such as CVS, Shamrock Foods, CRP Industries, Europris, Home Hardware, Martin Brothers and Burris Logistics trust Blue Ridge and its unmatched expertise to be their inventory alignment partner, visit http://www.blueridgeinventory.com/.