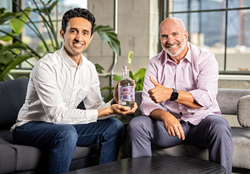 The adult beverage space is ready for professional investment from experienced operators
CHICAGO (PRWEB) December 21, 2021
Chicago based equity firm, InvestBev Group LLC is opening their $50M USD raise for their INVESTBEV GROWTH FUND III just months after their successful raise of $24M for INVESTBEV GROWTH FUND II. Funds will be allocated towards investing in independent brands, raw distillate, cannabis, and beverage technology. InvestBev Growth Fund III is the third such raise for this team with successful exits in their Fund I from bourbon distillate, beverage apps and the United States launch of several brands.
Rosen has spent over 35 years in the alcohol space and exited two multi-million-dollar companies as CEO. He has consulted with the biggest suppliers and importers in the Northern Hemisphere and is globally regarded as an astute investor. Rosen is widely regarded as a beverage pioneer and sees beverage funds as the best non correlated investment strategy available. Rosen states, "Given the risk involved in many current opportunities, InvestBev provides a stable and respected haven for partners capital"
Fund II has invested in un-aged bourbon, tequila, mezcal, a compliance software start-up and has a robust pipeline of opportunity remaining. Fund III will mirror this successful investment strategy.
Rosen says, "We have assembled a winning team across many related industry sectors and our goal is to continue to be the best stewards of investors capital that are seeking a non-correlated investing advantage".
We are thankful to all our limited partners from the family office teams to the high net worth individuals and institutional investors for the continued support with their capital, resources and for their guidance in rounding out our investor base.
Fund III is Now Open
About InvestBev Group:
Founded in 2015, InvestBev Group has grown to be a top adult beverage private equity firm. Helmed by a 3rd generation industry veteran Brian Rosen, IBG has raised nearly $100M with AUM of over $500M. They specialize in short return windows while offering non correlated investing as a cornerstone of their strategy.
For more info:
Brian Rosen
brian@investbev.com
312-617-9057