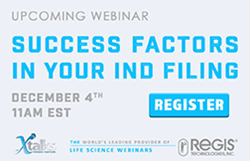 This webinar will provide essential advice for smaller pharmaceutical companies filing an IND for the first time.
Morton Grove, IL (PRWEB) November 30, 2015
The successful filing of an Investigational New Drug application (IND) is a pivotal milestone for an emerging pharmaceutical company. Because it is so important to this key industry segment, Regis Technologies has decided to sponsor and participate in an XTalks-hosted webinar titled "Success Factors in your IND Filing" on December 4th at 11am EST.
Federal law does not allow new drugs to cross state lines until it has been the subject of an approved marketing application. However, an IND gives a pharmaceutical company an exemption to send its investigational drug to clinical investigators in multiple states. Obtaining this exemption is a critical step when a new molecule is ready for testing of "diagnostic or therapeutic potential in humans," according to the FDA's IND site.
This webinar will provide essential advice for smaller pharmaceutical companies filing an IND for the first time as well as important tips for experienced drug developers. The panel will educate attendees on how to successfully obtain an IND. Examples and advice will focus on small molecule active pharmaceutical ingredients but much will also apply to biologic products.
The panel is made of regulatory and quality experts in the pharmaceutical industry. A synopsis of their credentials and talking points is below:

Jennifer Stanek is the Director in Global Regulatory Affairs CMC at Takeda. From her over 20 years experience, she will overview the US IND format including Chemistry, Manufacturing, & Controls (CMC) submission timings, FDA meetings, and other CMC considerations.
Dan Weissmueller is the Director of Quality at Regis Technologies. He will discuss the development lifecycle, validation considerations, equipment qualification, and risk management.
Steve Pondell is the Vice President of CMC at ESSA Pharmaceuticals. With his more than 30 years experience, he will advise on multiple topics including dosage form, analytical method requirements, and product stability.
The panel will be available for a live question and answer session at the end of the webinar for all live attendees.
Register online to attend this Friday, December 4th, at 11am EST and receive access to an on-demand copy of the webinar.
Regis Technologies is a contract manufacturing organization that partners with pharmaceutical and biotechnology companies. Those looking to expedite their drug to market timeline should visit http://www.registech.com and its Video Library for more resources on drug development.