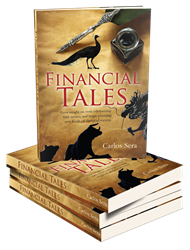 Available at no cost on Amazon Kindle this Friday through Monday
Baltimore, MD (PRWEB) November 23, 2015
Building on years penning the "Financial Tales" blog of financial and investment advice, Sera Capital Founder and Maryland Registered Investment Advisor Carlos Sera has completed his first book, called "Financial Tales." Comprised of financial advice shared in the form of stories or tales, the book is aimed at demystifying generally complex topics such as how to save and build wealth, where to invest money, the difference between aggressive and conservative investment approaches (and who should use which), how to save for retirement and other critical lessons of personal finance.
In his mid-40's, Mr. Sera was feeling his mortality and realized that the wisdom gained from his nearly 25 years advising clients on financial management and investment would all be lost unless he documented it. Thus began weeks of writing stories that are entertaining and impart key financial lessons. Nearly a year later, Financial Tales was born and now, 8 years later the essence of Financial Tales is in book form.
Sera's goal is for readers to "gain access to the same investment education and personal finance knowledge previously reserved for family, close friends and clients." As a first-generation Cuban-American, Mr. Sera's investment philosophy and writing style are deeply-rooted in his background.
"Every lesson learned growing up was from a myth, story, parable or tale." Mr. Sera uses this format to make these financial tales as simple and understandable as possible, actually bringing financial investment skills to everyone, regardless of their levels of prior financial understanding.
"Financial Tales" has been released in paperback and eBook formats and will be available at no cost on Amazon Kindle from Black Friday through Cyber Monday. For more information, or to order the personal finance book, please visit the Financial Tales website.
ABOUT THE AUTHOR
Carlos Sera of Sera Capital grew up outside Baltimore, Maryland. He graduated from Johns Hopkins University then earned his MBA in Finance and Applied Economics from the Simon School of Business.
He is a Registered Investment Advisor, trader and author of the financialtales.com blog where he explains the world of money and behavior through storytelling. Carlos has worked with hundreds of clients over three decades and shares his experiences and lessons learned in the book Financial Tales. He is a first generation Cuban-American and resides in Maryland with his wife and children.
For additional information, please visit Financial Tales.