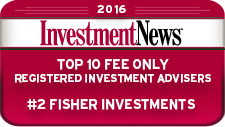 Camas, WA (PRWEB) June 23, 2016
Fisher Investments is pleased to announce it was named one of InvestmentNews' Top 10 US Registered Investment Advisers by total assets under management.
Ranked #2 on the InvestmentNews RIA list, the firm and its affiliates manage over $65 billion in assets—over $33 billion for North American private investors, over $28 billion for institutional investors and over $3 billion for European private investors (as of the 6/6/16 publication date). Fisher Investments and its affiliates have operations in the United States, Canada, the United Kingdom, the Netherlands, Sweden, Denmark, Norway, Belgium, Spain, Italy, France, Japan, Australia and the Dubai International Financial Centre—with further global expansion expected.
Damian Ornani, President of Client Acquisition and Service at Fisher Investments, commented, "We are honored to be recognized by InvestmentNews. Our top priority is helping clients meet their investment goals by providing them with unparalleled service and continuous education. We look forward to helping many more clients accomplish their investment goals and objectives in the future." Fisher Investments and its affiliates have over 33,000 private clients and 150 institutional clients globally.
InvestmentNews qualified over 1,700 firms based in the United States using data reported to the Securities and Exchange Commission. To qualify, advisers must be fee-only, based in the United States, independent from any broker/dealer, and meet other criteria.
To access the full list and criteria for consideration, please visit the following link: http://data.investmentnews.com/ria/
About InvestmentNews
InvestmentNews is a weekly publication providing news, data, research and events for financial advisers on investing strategy, practice management and retirement planning. For more information, please visit http://www.investmentnews.com
About Fisher Investments
Fisher Investments is an independent, fee-only investment adviser founded in 1979. Fisher Investments maintains four principal business units: Fisher Investments Institutional Group, Fisher Investments Private Client Group, Fisher Investments 401(k) Solutions Group and Fisher Investments International Group, which serve a global client base of diverse investors. Founder and CEO Ken Fisher has written the Forbes "Portfolio Strategy" column for over 30 years, and has authored several New York Times bestselling books on finance and investing. For more information, please visit http://www.fisherinvestments.com.