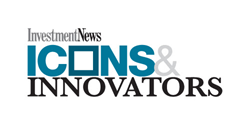 Talent, passion and innovation are the lifeblood of the financial advice business. We wanted to recognize those who carry that lifeblood in their veins.
Camas, WA (PRWEB) December 19, 2016
InvestmentNews announced it named Ken Fisher as one of its 2016 Icons and Innovators. Based on his accomplishments, a spirit of innovation, passion, and a commitment to advancing the profession of financial advice, Ken Fisher was selected as one of 18 innovators for the inaugural list: http://www.investmentnews.com/section/icons-and-innovators/2016/profile/15/Ken-Fisher
Speaking about his approach to innovation, Ken said, "My father taught me when I was young to think in terms of others about 'What are you doing your competitors aren't doing yet?', which I turned around and applied to myself." He continued, "A primary feature in my brain has always been the question 'What can you fathom others find unfathomable?', and every form of analysis I've ever done has been predicated on how everyone else does something and then looking for a different way."
Ken Fisher is featured along with the other Icons and Innovators in the Dec. 19 issue of InvestmentNews.
"Talent, passion and innovation are the lifeblood of the financial advice business," said Frederick P. Gabriel Jr., editor of InvestmentNews. "We wanted to recognize those who carry that lifeblood in their veins. So, we asked ourselves: Who has shaped the advice industry most? Who are the big thinkers, the folks who have carried the profession forward on the shoulders of their ideas?"
With the help of readers, the reporters and editors picked two icons and 18 innovators.
Ken Fisher will be honored at an awards luncheon on April 3 in New York City.
To learn more about Ken Fisher and the award, please go to InvestmentNews.com/icons.
About Ken Fisher
Ken Fisher is the founder, Executive Chairman and Co-Chief Investment Officer of Fisher Investments. He writes the prestigious "Portfolio Strategy" column in Forbes, where his 32-year tenure makes him the longest continuously running columnist in Forbes' 90+ year history. Ken's theoretical work in the early 1970s yielded a tool known as the Price to Sales Ratio, now a core element of modern financial curriculum. In the 1980s, he and Fisher Investments' research team helped create a school of equity style management called domestic small cap value equity, now a major category for institutional and retail investors. The firm has since expanded its research and management expertise into a wide array of style-based strategies. Ken Fisher's recent research focuses on the emerging field of behavioral finance. As of 2016, Ken is ranked #185 on the Forbes 400 list of richest Americans.
About Fisher Investments
Fisher Investments is an independent, fee-only investment adviser founded in 1979. As of 11/30/2016, Fisher Investments and its subsidiaries manage over $70 billion in assets—over $35 billion for North American private investors, over $31 billion for institutional investors and over $3 billion for European private investors. Fisher Investments maintains four principal business units: Fisher Investments Institutional Group, Fisher Investments Private Client Group, Fisher Investments 401(k) Solutions Group and Fisher Investments International Group, which serve a global client base of diverse investors. The clients of Fisher investments and its affiliates include over 180 large institutions and over 35,000 high net worth individuals. For more information, please visit http://www.fisherinvestments.com/.