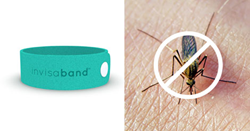 After relying on DEET-based products for more than 40 years, this is a breakthrough that should revolutionize the market.
Tampa, FL (PRWEB) August 11, 2014
Gogadgety Inc. will launch a crowdfunding campaign on Indiegogo on Thursday, August 14 for invisaband, a natural mosquito repellent band. Creators of the microfiber bracelet plan to raise $10,000 for their project in 30 days. Unlike other products on the market, invisaband does not use DEET or other toxic chemicals in its material. Instead, it provides a safe and natural alternative in the form of a microfiber band.
The secret ingredient in invisaband's repellent is geraniol oil, collected from a geranium flower. Geraniol is a natural essential oil that studies have found to be more effective at keeping mosquitoes away than citronella and in some cases, even DEET. Geraniol oil works by disorienting mosquitos so that the wearer of invisaband appears almost invisible to them. Geraniol was granted "generally recognized as safe" (GRAS) status by FEMA in 1965. Other generally regarded as safe substances include things like caffeine, vinegar, calcium, coconut oil and salt.
"Geraniol oil is the first effective alternative to products containing DEET, the most widely used active ingredient in insect repellents, now on the market," said Jerry Butler, entomologist with University of Florida's Institute of Food and Agricultural Sciences. "After relying on DEET-based products for more than 40 years, this is a breakthrough that should revolutionize the market."
The microfiber material of invisaband is also an improvement on other bug repellent bracelets on the market. Materials such as plastic and silicone do not allow for the slow release of repelling chemicals. invisaband's microfiber allows for an ongoing gradual release that makes each band potent for more than 120 hours. When a user is done wearing the band, they can simply store it in its airtight pouch for later use.
invisaband is effective when worn around the wrist, ankle, or even attached to a backpack, hat, belt loop or stroller. The adjustable clasp and sizing holes make it one size fits all, rendering it quick and easy to put on without hassling with sprays or lotions.
invisaband will be crowdfunding on Indiegogo beginning on August 14, 2014. Just $19 earns contributors one pack containing five invisabands that will retail after the campaign for $25. The creators are so confident in their product that they are also offering a 60-day, money-back guarantee. To learn more about invisaband, please visit http://bit.ly/Invisaband.
ABOUT GOGADGETY INC.
Founded in 2011, Gogadgety Inc. is a product development and distribution company bringing the most unique and useful gadgets to the USA and Canada. The company is based in Canada. For more information, please see http://www.gogadgety.com.