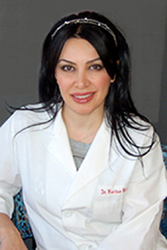 Burbank, CA (PRWEB) February 20, 2015
Dr. Marine Martirosyan, Burbank Invisalign expert, is now offering complimentary consultations. Invisalign is one of the most popular orthodontic treatments for teens and adults. The consultation allows patients to learn more about treatment options, and Dr. Martirosyan can determine their candidacy for Invisalign Teen, Express or full. Candidates may have dental impressions, X-rays, and other records along with a complete dental examination. They can also learn about financing options or insurance coverage for the Invisalign prices.
This special is good throughout the month of February, but some restrictions may apply. Qualified patients may be able to get started on their new treatment plans right away. Treatment is planned using digitized records, which form the basis of the treatment plan. The aligners, which are clear and removable, are made according to this plan. Aligners are similar to mouth guards or even orthodontic retainers, but they exert enough force to gently move the teeth. Every two weeks, the aligners will be changed, and the new aligners will continue moving the teeth.
Each patient is provided with personalized care to ensure the best results. According to Dr. Martirosyan's team, "We are committed to providing you with the highest level of care, giving you cutting edge technology, outstanding customer service and the smile of a lifetime … We work with you not only to change your smiles but to change your lives. Giving you a healthy and beautiful smile is our priority."
About Dr. Marine Martirosyan, Invisalign Doctor Burbank
Dr. Martirosyan earned her dentistry degree from USC and continued her post-doctoral training to expand her knowledge and skills in the field of cosmetic dentistry. She has completed multiple degrees and certification programs, and her office is equipped with the latest technology and tools to ensure her patients have access to the highest standard of care. Today, Dr. Martirosyan is considered a top Burbank Invisalign Express expert, and she is a member of the American Academy of Dental Sleep Medicine, the California Dental Association, the American Dental Association, the Academy of Laser Dentistry, the Academy of Osseointegration, and the World Association for Laser Therapy. She is Invisalign Certified by Align Technology.