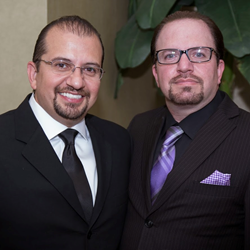 Huntington Beach, CA (PRWEB) January 12, 2015
Huntington Beach Invisalign dentist, Dr. Rassouli, is now offering a New Year offer on Invisalign. Many people could benefit from orthodontic treatment. Traditional metal braces have long been seen as the domain of teenagers, which is why many adults have resigned themselves to a lifetime with crooked teeth. Invisalign offers another alternative. It uses clear aligners that are almost undetectable when worn, so patients can undergo much-needed orthodontic treatment without feeling self-conscious. Contact the office of Dr. Rassouli regarding the details about the offer.
About Dr. Rassouli, Dentist Huntington Beach
Dr. Rassouli is a premier Invisalign dentist. A co-founder of the South Coast Dental Academy, his commitment to continuing dental education is unparalleled. He is a graduate of the University of Southern California's School of Dentistry. He served on the Accreditation Committee and received recognition for his hard work and academic accomplishment. After graduation, he served on USC's Century Club.
About Invisalign
The Invisalign cost varies based on individual needs. In most cases, the price of Invisalign may be covered by dental insurance, HSAs and FSAs for greater affordability. People may be candidates for Invisalign if they have mild to moderate malocclusions or misalignments. Dr. Rassouli, expert in Invisalign in Long Beach and Huntington Beach, provides patients with evaluations to determine their candidacy and explore various treatment options. These can include:

Invisalign Teen, which includes features such as eruption tabs and blue wear dots that make them perfect for a growing teen's special needs
Invisalign Express, which is a fast, effective solution for patients with minor crowding or other problems
Traditional Invisalign, which can be used to treat many different orthodontic issues
The Invisalign process uses advanced technology and incorporates the latest advances of dentistry. Patients who are candidates for treatment will begin with a consultation with Dr. Rassouli. Dr. Rassouli will create a detailed treatment plan and design the aligners. A series of aligners is used, and patients will move through the series with a new set of aligners every two weeks. Teeth are gradually guided into position. Discomfort is minimal since the aligners are smooth and comfortable to wear, and patients have few major adjustments to their lifestyle since they can remove the aligners to eat or manage dental hygiene tasks. Visit http://www.invisalignhuntingtonbeach.net to learn more.