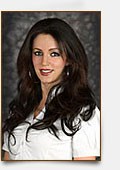 Los Angeles, CA (PRWEB) August 02, 2013
Misaligned teeth can be prone to tooth decay and periodontal disease because they tend to be hard to keep clean. A maloccluded bite may leave patients more susceptible to worn teeth, TMJ disorders, headaches, jaw pain and fractured teeth. Orthodontic treatments can straighten teeth and align bites. Dr. Ghasri, Los Angeles Invisalign provider, now offers Invisalign clear braces that can help patients achieve healthier smiles.
Invisalign uses no brackets or wires. Instead, a series of clear plastic aligners is carefully crafted for each patient. These trays are designed to move teeth into a specific position during each phase of treatment. The gradual changes allow for a more comfortable orthodontic experience, and the subtle appearance of the clear aligners makes them more popular with teens and adults who crave a discreet treatment experience. They can be removed for comfortable eating and more thorough cleaning without the need for cumbersome dental hygiene tools. Invisalign is extremely versatile and can be used to treat crowded teeth, crooked teeth, widely spaced teeth and bite abnormalities including crossbite, overbite and underbite.
As a skilled expert in Invisalign in Los Angeles, Dr. Ghasri offers a full range of cosmetic treatments and procedures to help her patients achieve the healthier, more functional, more beautiful smiles of their dreams. Teeth whitening treatments can wipe away all traces of nicotine, coffee, tea and other common substances. Porcelain veneers and Lumineers can be used to conceal intrinsic stains, worn enamel, chips and other common flaws. Many of these cosmetic treatments can be used in addition to Invisalign for a smile makeover that transforms a patient's entire appearance. Not all patients will be candidates for all procedures. A consultation is essential to better understanding each patient's individual needs.
About Poneh Ghasri DDS, Expert in Invisalign Los Angeles
Dr. Poneh Ghasri is a premier Los Angeles Invisalign provider and has achieved recognition as an Invisalign Preferred Provider. She attended the University of California, Los Angeles, where she earned her DDS, and she continued her education in the field of cosmetic surgery. She has sought and earned advanced certification in implant reconstruction, Lumineers and Invisalign. Her reputation for excellence and her warm, caring touch have resulted in her becoming one of Hollywood's most sought-after cosmetic dentists.
Contact
Avital Web Inc.
Kevin Neman
(818) 205-9300
Website: http://www.invisalign-losangeles.com