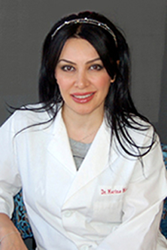 Pasadena, CA (PRWEB) March 23, 2015
Pasadena Invisalign provider, Dr. Marine Martirosyan, is now offering Invisalign Teen and Invisalign Express. Invisalign is a type of orthodontic treatment that uses clear, mouth guard-like aligners that shift teeth much like braces do but with less irritation and no unsightly metal. The cost of Invisalign in Pasadena can vary based on the type and extent of treatment. A consultation with Dr. Martirosyan can provide patients with more information about their orthodontic needs and potential treatment options.
Types of Invisalign:
There are three primary types of Invisalign, including:

Traditional Invisalign may be the best-known version of the treatment. It uses clear aligners that are easy to place and easy to remove for eating, drinking, or dental hygiene. Aligners are changed about twice a month, and each new stage of treatment takes patients closer to their new smiles.
Invisalign Teen includes all of the features of traditional Invisalign as well as teen-friendly features, including eruption tabs for growing teens, and Blue Dot indicators to ensure compliance and replacement aligners for those inevitable mishaps.
Invisalign Express is another option. Invisalign Express is designed to work just like traditional Invisalign but with fewer stages of treatment. It is generally recommended for those with minor crowding or spacing issues or for those with orthodontic relapse. Unlike Invisalign, which can require anywhere from 20 to 30 aligners, Invisalign Express may be completed with just five to 10 aligners.
According to Dr. Martirosyan, "The main benefit of an orthodontic treatment is the optimization of dental, facial, and smile aesthetics." Orthodontics can also improve smile health and long-term function of the teeth.
About Dr. Marine Martirosyan, Expert in Invisalign Teen Pasadena
Dr. Martirosyan earned her degree from the University of Southern California and has completed nearly a decade of advanced classes in just one year. She was recently presented with the Continuing Education Lifelong Learner Award at USC. After completing training at the Las Vegas Institute for Advanced Dental Studies, Dr. Martirosyan served as a clinical faculty member at USC. Today, this elite Pasadena Invisalign doctor is a member of the Academy of Osseointegration, the American Academy of Dental Sleep Medicine, the Academy of Laser Dentistry, the American Dental Association, and the American Academy of Cosmetic Dentistry.