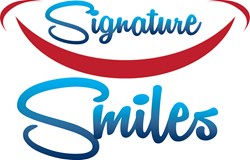 Signature Smiles is now offering a complimentary Invisalign consultation and $500 off the treatment!
Las Vegas, NV (PRWEB) September 08, 2013
Top Las Vegas Dentist, Signature Smiles, is now offering multiple specials for Invisalign clear braces. The first special is for a complimentary Invisalign consultation, and the second is for $500 off the treatment. Invisalign has been revolutionary for straightening teeth, and Signature Smiles has an experienced, certified dentist. Call (702) 337-2273 for more information and scheduling.
The Invisalign option for straightening teeth has been a remarkable improvement over the older method of braces. There are no metal brackets or wires, and most people cannot even notice the individual is wearing braces.
In addition, Invisalign is completely removable for eating and brushing. The plastic aligners are changed out every couple of weeks as the straightening progresses, and they do not need to be attached to any posts or brackets.
For twenty years, Signature Smiles has been offering premier dental services in Las Vegas with the best dentists. Cosmetic, general, dentures and implants are performed, with patients being seen from toddlers to senior citizens.
In order to take advantage of the complimentary Invisalign Las Vegas consultation and $500 off treatment, call (702) 337-2273.