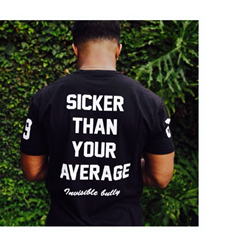 Our Holiday '14 and Spring '15 designs give the inside track on Notorious BIG, and how his legacy help shape Hip Hop fashion and lifestyle from the '90s to now.
Brooklyn, NY (PRWEB) July 21, 2014
Born of the rich artistic culture of Brooklyn, New York, statement apparel brand Invisible Bully is quickly becoming a go-to for young fashion tastemakers across the country. This week, Invisible Bully will be showcasing Holiday 2014 and Spring 2015 designs with attendees at the NYC Agenda Show, July 21-22, at Jacob Javit's Center, booth B32.
They will follow up with the premier of exclusive designs at the MVMNT Show in Las Vegas, August 18-20. Invisible Bully will also publicly introduce the line with star-studded in-stores in New York, Los Angeles, Atlanta and Houston this summer.
With an array of designs inspired by the legendary Notorious BIG and vibrant '90s street culture, Invisible Bully has solidified itself with a loyal following. Founded by Damion "D-Roc" Butler, childhood friend and longtime business partner of BIG, the line was built on a foundation of loyalty, strength and honor - ideals that have helped shape Hip Hop culture for longevity.
In their early years, D-Roc and BIG launched the big-and-tall brand Brooklyn Mint, and their passion for practical design flourished. In Biggie's lyrics, he referred to D-Roc as his "Invisible Bully". Today, D-Roc carrying on the legacy of the name through fashion is a natural step.
Invisible Bully is now taking street fashionistas by storm with limited runs of their Summer 2014 line at major retailers and select boutique shops. Not to be confused with trend pieces, the original IB designs tactfully tell the story of Notorious BIG and '90s East Coast Hip Hop. The brand boasts integrity in design and production, sourcing materials hand-picked by D-Roc and his creative team to assure the superb quality and classic appeal that Invisible Bully has become known for.
Since the brand's inception, Invisible Bully has gathered an impressive collection of influential supporters, including the likes of Puffy, Justin Bieber, Rick Ross, Chris Brown and Miley Cyrus.
In alignment with Invisible Bully's big NYC line debut this week, French Montana, Power 105.1's DJ Envy and celebrity friends of the brand will help to kick off a national in-store tour at one of the country's largest retailers in Midtown Manhattan. Through these meet & greets, people will have direct access to the newest IB designs along with some of their favorite stars.
"We have been blessed with unprecedented support from the entertainment industry and artists without putting out much product thus far," says D-Roc. "With strong retail partners, we plan to release full collections and showcase the lifestyle that we help create, with updated sweatsuits and cut and sew pieces. Our Holiday '14 and Spring '15 designs give the inside track on Notorious BIG, and how his legacy help shape Hip Hop fashion and lifestyle from the '90s to now."
For more information on Invisible Bully, go to http://InvisibleBully.com.
Follow IB at http://Twitter.com/InvisibleBully_ http://Instagram.com/InvisibleBully_ and http://Facebook.com/InvisibleBullyNY.