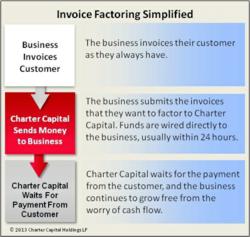 The biggest challenge for staffing companies is obtaining growth capital
Houston, TX (PRWEB) July 11, 2013
Staffing company owners can now benefit from Charter Capital's staffing invoice factoring program. This factoring program was created to address the growth in staffing and temporary employment companies.
The biggest challenge for staffing companies is obtaining growth capital. Most clients of staffing companies pay their invoices on 30 to 60 day terms. Unless the staffing company has significant cash reserves, it will run into serious cash flow problems.
"The factoring of invoices allows a staffing company to get paid right away instead of waiting up to 60 days or more to get paid," said Keith Mabe, Vice President of Charter Capital. "It is very flexible and gives businesses the financial strength they need to help them grow." he added.
Invoice factoring can easily be incorporated into a staffing company. For example:

The staffing company would provide services as usual, obtain time sheets and create invoices
The invoices are sold to the factoring company, who provides immediate funding
The factoring company waits for payment instead of the staffing company, and the invoices are closed once the payment is received.
Invoice factoring is not a loan and creates no additional debt for a growing business. Invoice factoring is also fairly easy to obtain and can be set up in as little as 4 to 5 business days. The most important qualification is that the staffing company's clients are credit worthy.
The staffing company factoring program is also available to security companies under the security guard factoring program.
About Charter Capital
Charter Capital is recognized as one of the hardest working independent providers of accounts receivable financing / invoice factoring and cash flow management solutions for small to mid-sized businesses. They offer a complete line of asset based funding and related financial services. In today's "credit crunch" economy, Charter Capital can be your alternative source for business financing.
Headquartered in Houston, Texas, Charter Capital is an original provider of accounts receivable financing and a facilitator of asset-based lending and equipment financing for major industries including oilfield services, freight and transportation, consulting firms, service providers, staffing firms, distributors and manufacturers, industrial maintenance and repair services.
To learn more about accounts receivable factoring / financing call Charter Capital at 1-877-960-1818 or visit the website at http://www.chartercapitalusa.com