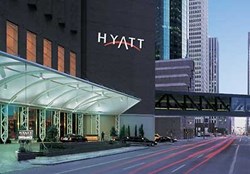 InvoTech's system is very easy for my staff to use, and it is reliable. It was an easy decision to install their system. InvoTech is the industry leader with hundreds of installations like ours.
Los Angeles, CA (PRWEB) September 17, 2013
InvoTech Systems, Inc. announced that the Hyatt Regency Houston installed the InvoTech Uniform System for more efficient uniform tracking for its staff of 400. The 947-room business hotel uses InvoTech to reduce labor hours and uniform losses through its management of more than 2,000 uniforms. Click here for more information on InvoTech's Linen, Uniform, Laundry, and Security Systems.
"Hyatt Regency Houston has a large staff. Some uniforms are laundered in house and some the employees are allowed to take home. InvoTech establishes accountability for every garment to reduce losses and lets us do this with a smaller staff," said Tom Jamison, Director of Rooms at the Hyatt Regency Houston. "Our uniform operation is 100% more efficient than our previous manual process. We were able to re-assign our Employee Concierges to spend more time assisting staff instead of tracking down and counting uniforms."
Large Chain Properties Tap InvoTech to Protect their Uniform Investment
Oswald Lares, director of sales for InvoTech Systems, said, "Many chain business properties with large staffs are implementing InvoTech's Uniform and Linen Systems to reduce costs. These hotels invest hundreds of thousands of dollars in uniforms and linens and many are turning to InvoTech to protect these assets."
InvoTech Uniform System: Easy to Use and Reliable
"InvoTech's Uniform System also monitors when uniforms need repair and when they go to the tailor for updating," Hyatt's Jamison said. "InvoTech's system is very easy for my staff to use, and it is reliable. It was an easy decision to install their system. InvoTech is the industry leader with hundreds of installations like ours."
InvoTech clients include MGM Resorts International, Hyatt Hotels, Marriott, Hilton Hotels, Universal
Studios Florida, Wynn Resort Las Vegas and Macau, Madison Square Garden, MSR-FSR Laundries, Empire State Building, Loews Hotels, Mandarin Oriental, and other leading companies. InvoTech's international customers include the Venetian Macau Resort Hotel; MGM Grand Macau; Four Seasons Macau; Grand Hyatt Shanghai, China; Burswood Entertainment Complex, Australia; Sheraton Seoul, Korea; and Resorts World Sentosa Singapore.
About Hyatt Regency Houston
Expect to be pampered at the finest luxury hotel Houston, Texas has to offer. Upscale amenities like a state-of-the-art fitness center, full-service Concierge, FedEx Business Center, complimentary shuttle service and Wi-Fi Internet access make Hyatt Regency Houston the perfect choice for both business and leisure guests. In town for a meeting or conference? Our ideal location in the heart of Houston's downtown gives you easy access to the convention center as well as entertainment and corporate headquarters. To ensure the most enjoyable visit to the great state of Texas possible, allow our luxury hotel's staff to assist you 24 hours a day.
About InvoTech Systems
InvoTech Systems, Inc. increases profitability for clients. It is a leading provider of software management and control systems for uniforms and linens, and for laundry and security operations. Served markets include hospitality, healthcare, commercial laundry, and amusement industries worldwide. InvoTech products deliver vital information that establishes ultimate control and total accountability. InvoTech solutions are reliable and easy to use. They streamline operations and improve service levels – all with reduced labor and operating expenses. InvoTech produces and supports 100% of its system and product development in-house. The firm's trusted staff averages 10 years of reliable technical experience, knowledge of methodologies, and industry depth. InvoTech – a Microsoft Certified Partner – evolves technology-based solutions regularly, based on client- and staff-driven innovations. The company is rooted in a culture that emphasizes long-term client relationships and superior customer service. For more information, please visit http://www.invotechsystems.com.