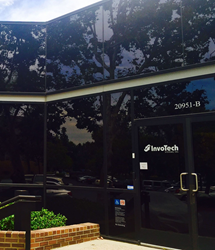 Our expansion enables InvoTech to continue to deliver the highest level of professional personalized service and customer satisfaction.
LOS ANGELES (PRWEB) August 11, 2015
As part of a global expansion plan, InvoTech Systems, Inc., the leader in RFID Inventory Control Systems, relocated its headquarters to larger offices to accommodate new staff and worldwide client growth. InvoTech's global growth prompted the addition of new team members in its Product Development, System Installation and Technical Support departments. The company will continue to be based in Southern California with offices double the size of its previous location. Click here for more information on InvoTech's Linen, Laundry and Uniform Systems.
InvoTech Systems is the leading provider of advanced Linen Management, Uniform and Laundry Systems that integrate the latest RFID technology to increase profitability for hotels, resorts, casino operators, sports arenas, convention centers and theme parks. InvoTech is recognized globally for implementing systems and solutions that save companies time, labor and money.
New facilities include dedicated space for research & development, products and system inventory, and larger offices for its support team. The company's conference room has glass walls with a 16-foot conference table and leading edge media technology. The kitchen opens onto a patio eating area where InvoTech's staff enjoys the Southern California weather and comradery.
InvoTech's new address is 20951 Burbank Blvd., Suite B, Woodland Hills, CA 91367, USA.
InvoTech grows globally
Jeff Welles, InvoTech president said, "Hospitality companies, casino operators, and other businesses around the world recognize the advantages of automated inventory tracking. Our office and staff expansion are a result of the leading hotel companies and other industries selecting InvoTech's RFID Uniform and Linen Systems to reduce labor expenses and eliminate losses to increase profitability."
InvoTech designed its new corporate headquarters to meet the exact needs of its wide range of clients. "Our product development, installation and training teams and customer support staff have large dedicated spaces to operate more efficiently. We also expanded space for our inventory of our system's equipment and supplies, and shipping and receiving. I have already seen increased efficiencies in our operations and boosted employee moral since the new office opened on June 1, 2015. Our expansion enables InvoTech to continue to deliver the highest level of professional personalized service and customer satisfaction."
InvoTech's international clients include Four Seasons Macau; Grand Venetian Macau Resort Hotel; MGM Grand Macau; Hyatt Shanghai, China; Burswood Entertainment Complex, Australia; Sheraton Seoul, Korea; Resorts World Sentosa Singapore; and Palace Resorts, Mexico. North American clients include MGM Resorts International, Ritz Carlton, Hyatt Hotels, Marriott, Hilton Hotels, Loews Hotels, Mandarin Oriental, Universal Studios Florida, California and Singapore, Madison Square Garden, MSR-FSR Laundry, Empire State Building, and other leading companies.
About InvoTech Systems
InvoTech Systems, Inc. increases profitability for clients. It is a leading provider of software management and control systems for uniforms and linens, and for laundry and security operations. Served markets include hospitality, healthcare, commercial laundry, and amusement industries worldwide. InvoTech products deliver vital information that establishes ultimate control and total accountability. InvoTech solutions are reliable and easy to use. They streamline operations and improve service levels with reduced labor and operating expenses. InvoTech provides 100% of its system support and product development in-house. The firm's trusted staff averages 10 years of reliable technical experience, knowledge of methodologies, and industry depth. InvoTech is a Microsoft Certified Partner that evolves technology-based solutions regularly based on client- and staff-driven innovations. The company is rooted in a culture that emphasizes long-term client relationships and superior customer service. For more information, please visit http://www.invotech.com.