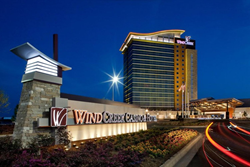 I expect the cutting edge technology to reduce costs and help manage inventory more effectively at our newest location.
LOS ANGELES (PRWEB) November 20, 2015
InvoTech Systems Inc. announced implementation of its RFID Linen System at the new Wind Creek Casino & Hotel Montgomery. The 123-room Wind Creek Hospitality casino hotel is operated by The Poarch Band of Creek Indians and is the third Wind Creek Hospitality property to implement InvoTech. The Wind Creek Casino & Hotel Montgomery will have its grand opening on December 1, 2015. InvoTech Systems is the leading provider of advanced Linen Management, Laundry and Uniform Systems that integrate the latest RFID technology to increase profitability for hotels, resorts, casino operators, sports arenas, convention centers and theme parks. Click here for more information on InvoTech's Linen, Laundry and Uniform Systems.
"We are pleased with the efficiency and cost savings we have experienced using the InvoTech Linen and Uniform Management Systems at other Wind Creek Hospitality properties. I expect the cutting edge technology to reduce costs and help manage inventory more effectively at our newest location." said Jake Carlton, Property Manager at Wind Creek Casino & Hotel, Montgomery.
"Wind Creek Hospitality is familiar with the efficiencies its properties realize by automating its Linen and Uniform processes with InvoTech," said Oswald Lares, InvoTech director of sales and marketing. "We are grateful to have InvoTech's systems installed in all Wind Creek properties, and now in its newest addition in Montgomery." InvoTech's UHF-RFID Linen System technology monitors, controls and reports on movement of more than 10,000 linen items throughout the Wind Creek Montgomery property and to and from its laundry.
48 Indian Gaming properties rely on InvoTech Systems
Creek, Chickasaw, Seminole, Sycuan, Dakota Sioux and many other tribal organizations use InvoTech Systems to optimize uniform management, inventory control and laundry room operations. A total of 48 Indian Gaming properties across North America rely on InvoTech's Uniform and Linen Management Systems to increase profitability by lowering labor expenses and losses. InvoTech provides 100% reduction in non-theft related losses, cuts labor costs by 50%, and provides control of outside laundry charges.
InvoTech's clients include MGM Resorts International, Ritz Carlton, Hyatt Hotels, Marriott, Hilton Hotels, Loews Hotels, Mandarin Oriental, Universal Studios Hollywood and Florida, California and Singapore, Madison Square Garden, MSR-FSR Laundry, and the Empire State Building. International clients include Four Seasons Macau; Venetian Macau Resort; MGM Grand Macau; Hyatt Shanghai, China; Burswood Entertainment Complex, Australia; Sheraton Seoul, Korea; Resorts World Sentosa Singapore; and Palace Resorts, Mexico.
About InvoTech Systems
InvoTech Systems, Inc. increases profitability for clients. It is a leading provider of software management and control systems for uniforms and linens, and for laundry and security operations. Served markets include hospitality, healthcare, commercial laundry, and amusement industries worldwide. InvoTech products deliver vital information that establishes ultimate control and total accountability. InvoTech solutions are reliable and easy to use. They streamline operations and improve service levels with reduced labor and operating expenses. InvoTech provides 100% of its system support and product development in-house. The firm's trusted staff averages 10 years of reliable technical experience, knowledge of methodologies, and industry depth. InvoTech is a Microsoft Certified Partner that evolves technology-based solutions regularly based on client- and staff-driven innovations. The company is rooted in a culture that emphasizes long-term client relationships and superior customer service. For more information, please visit http://www.invotech.com.
About Wind Creek Hospitality
Wind Creek Hospitality is an authority of the Poarch Band of Creek Indians. Wind Creek Hospitality manages the Tribe's gaming facilities including: Wind Creek Atmore, Wind Creek Wetumpka, and Wind Creek Montgomery as well as racetracks in Alabama and Florida.
The Poarch Creek Indians are descendants of a segment of the original Creek Nation, which once covered almost all of Alabama and Georgia. Unlike many eastern Indian tribes, the Poarch Creeks were not removed from their tribal lands and have lived together for almost 200 years in and around the reservation in Poarch, Alabama. The reservation is located eight miles northwest of Atmore, Alabama, in rural Escambia County, and 57 miles east of Mobile.
The Poarch Band of Creek Indians is the only federally recognized Indian Tribe in the state of Alabama, operating as a sovereign nation with its own system of government and bylaws. The Tribe operates a variety of economic enterprises, which employ hundreds of area residents.