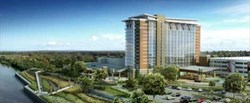 InvoTech recently celebrated 20 years of growth and is well known in the casino hotel industry for providing excellent quality uniform management solutions.
(PRWEB) August 19, 2013
InvoTech Systems, Inc. announced that the Wind Creek Wetumpka Casino and Hotel will install InvoTech's UHF-RFID Uniform System. The new-build property chose InvoTech to streamline the management of 8,000 uniforms for 900 employees. Click here for more information on InvoTech's Linen, Uniform, Laundry, and Security Systems.
Wind Creek Wetumpka is the Poarch Band of Creek Indians' latest hotel and casino. The $246-million property is on schedule for completion in winter 2013/2014.
"We are delighted to be partnering with InvoTech Systems," said Wind Creek Wetumpka Property Manager Cody Williamson. "InvoTech recently celebrated 20 years of growth and is well known in the casino hotel industry for providing excellent quality uniform management solutions."
UHF-RFID technology automates uniform tracking; establishes accountability
InvoTech's reliable UHF-RFID Uniform System will manage the property's entire garment inventory. Automated tracking will reduce labor and operating expenses with leading edge technology:

Each uniform will be fitted with UHF-RFID Laundry Tags for instant tracking.
UHF-RFID Readers will record which uniforms are assigned to each employee and automatically record when uniforms are picked-up by employees.
Electronic Signature Capture Terminals will record signatures electronically for complete accountability and paperless operations.
UHF-RFID Portable Handheld Reader with InvoTech Mobile Software will provide real-time information via Wi-Fi communications. The portable device will be used for processing bags of soiled uniforms being sent to the laundry and racks of clean uniforms being received from the laundry. The portable readers also automate a physical inventory.
InvoTech preserve 100% of Wind Creek uniform asset investment
"Wind Creek Wetumpka is a beautiful 21-story property that will employ 900 people. That amounts to thousands of uniforms," says InvoTech Director of Sales Oswald Lares. "Our UHF-RFID Uniform System is easy to use and will be the ideal solution for accurate tracking. The system preserves 100% of the casino hotel's uniform asset investment."
InvoTech installation and support teams personally backup advanced technology
"InvoTech's installation team will be on-site for eight days," said Lares. "They will set up the system, personally train staff, and assist with employee uniform fitting. After system installation, InvoTech provides 24-hour customer support and periodic software updates."
InvoTech clients include MGM Resorts International, Hyatt Hotels, Marriott, Hilton Hotels, Universal Studios Florida, Wynn Resort Las Vegas and Macau, Madison Square Garden, MSR-FSR Laundries, Empire State Building, Loews Hotels, Mandarin Oriental, and other leading companies. InvoTech's international customers include the Venetian Macau Resort Hotel; MGM Grand Macau; Four Seasons Macau; Grand Hyatt Shanghai, China; Burswood Entertainment Complex, Australia; Sheraton Seoul, Korea; and Resorts World Sentosa Singapore.
About InvoTech Systems
InvoTech Systems, Inc. increases profitability for clients. It is a leading provider of software management and control systems for uniforms and linens, and for laundry and security operations. Served markets include hospitality, healthcare, commercial laundry, and amusement industries worldwide. InvoTech products deliver vital information that establishes ultimate control and total accountability. InvoTech solutions are reliable and easy to use. They streamline operations and improve service levels – all with reduced labor and operating expenses. InvoTech produces and supports 100% of its system and product development in-house. The firm's trusted staff averages 10 years of reliable technical experience, knowledge of methodologies, and industry depth. InvoTech – a Microsoft Certified Partner – evolves technology-based solutions regularly, based on client- and staff-driven innovations. The company is rooted in a culture that emphasizes long-term client relationships and superior customer service. For more information, please visit http://www.invotech.com.