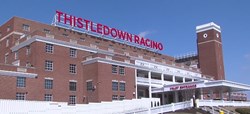 InvoTech gives us an accurate, real-time inventory of all staff uniforms to protect our clothing investment efficiently and effectively.
Los Angeles, CA (PRWEB) October 31, 2013
InvoTech Systems, Inc., a leading provider of systems that integrate the latest RFID technology to increase profitability for hotels, casinos, and commercial laundry operators, announced ThistleDown Racino implemented its Uniform System to track uniforms for its 900 team members. ThistleDown Racetrack recently reopened as a Racino (racetrack-casino) operated by Caesars Entertainment with custom uniforms for its new operation. Click here for more information on InvoTech's Linen, Uniform, and Laundry Systems.
InvoTech protects substantial uniform investment efficiently, effectively. "InvoTech gives us an accurate, real-time inventory of all staff uniforms to protect our clothing investment efficiently and effectively," said TreVina Johnson, employee labor relations manager for ThistleDown Racino. ThistleDown recently reopened under Caesars Entertainment with horse racing and video lottery terminals. The Caesars transition included new uniforms for all 900 team members. "We had a major change in our operation and are now the sister property to Caesars Horseshoe Casino Cleveland, which also uses InvoTech. We use InvoTech to assign each uniform to specific team members and track the daily uniform requirement for all departments. This ensures we maintain continuous 'room PAR,' that is our wardrobe-room par stock, for all staff in every department."
Other Caesars Entertainment properties that use the InvoTech Uniform System include Harrah's Casino Ak-Chin, Harrah's Casino Lake Charles, Harrah's Casino St. Louis, Horseshoe Casino Cleveland, and Horseshoe Casino Cincinnati. Additionally, Caesars' new Horseshoe Casino Baltimore, which is expected to open in 2014, will install the InvoTech Uniform System for its grand opening.
Easy coding for 10,000 uniforms
"It was an easy process to code our uniforms and enter them in the system for employee accountability," said Johnson. "Some of our staff launders their uniforms at home, and some departments, like our F & B teams, have uniforms dry cleaned. The InvoTech system tracks uniform movement and provides reports that ensure we always have the right number of uniforms for all team members. It would be a labor-intensive job to track uniform inventories and processing by hand."
InvoTech clients include MGM Resorts International, Hyatt Hotels, Marriott, Hilton Hotels, Universal
Studios Florida, Wynn Resort Las Vegas and Macau, Madison Square Garden, MSR-FSR Laundry, Empire State Building, Loews Hotels, Mandarin Oriental, and other leading companies. InvoTech's international customers include the Venetian Macau Resort Hotel; MGM Grand Macau; Four Seasons Macau; Grand Hyatt Shanghai, China; Burswood Entertainment Complex, Australia; Sheraton Seoul, Korea; Resorts World Sentosa Singapore; and Palace Resorts, Mexico.
About InvoTech Systems
InvoTech Systems, Inc. increases profitability for clients. It is a leading provider of software management and control systems for uniforms and linens, and for laundry and security operations. Served markets include hospitality, healthcare, commercial laundry, and amusement industries worldwide. InvoTech products deliver vital information that establishes ultimate control and total accountability. InvoTech solutions are reliable and easy to use. They streamline operations and improve service levels with reduced labor and operating expenses. InvoTech provides 100% of its system support and product development in-house. The firm's trusted staff averages 10 years of reliable technical experience, knowledge of methodologies, and industry depth. InvoTech is a Microsoft Certified Partner that evolves technology-based solutions regularly based on client- and staff-driven innovations. The company is rooted in a culture that emphasizes long-term client relationships and superior customer service. For more information, please visit http://www.invotech.com.