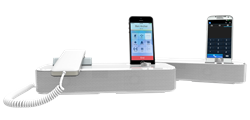 Buffalo, NY (PRWEB) June 09, 2015
VoIP Supply, North America's leading VoIP solutions provider, is announcing today the availability of Invoxia VoIP base stations for BYOD iPhone, Android, and tablets.
Invoxia has two devices, the Invoxia NVX 620 and Invoxia NVX 220, to provide a desktop VoIP calling experience for mobile employees that need enterprise grade telephony but can't be confined to a desk.
For Bring Your Own Device (BYOD) environments, workers can use the iPhone, iPad, Android smartphone, or Android tablet that they are most comfortable with and connect it to an Invoxia base station to make and receive VoIP calls via a SIP account.
Invoxia benefits include:

Handset with HD audio that improves call quality
Speakerphone for conference calling
Acts as a charging station for mobile devices
Offers hands-free calling via corded or Bluetooth headsets
USB ports
Two Ethernet ports with Power over Ethernet (PoE)
Compatible with iPhone and iPad devices from iOS 5.1
Compatible with Android from 4.0 (Ice Cream Sandwich)
Acts as a standalone VoIP phone to make/receive calls even without a docked device
Beginning in July 2015 the NVX 620 and NVX 220 will be available for ordering.
For more information about Invoxia VoIP phones for Apple and Android smartphones and tablets, contact VoIP Supply via email at voipinsider(at)voipsupply(dot)com.
About VoIP Supply
We solve problems and create solutions with VoIP. VoIP Supply is a world class place to work with big goals, a clear vision, defined purpose and a dedicated team of passionate business professionals. We love what we do and do it better than any of our competition.
Since 2002, VoIP Supply has been the leading supplier of VoIP equipment and complete VoIP solutions in North America. We are known in the industry as responsive and knowledgeable VoIP product experts.
With everything you need for VoIP, VoIP Supply has grown rapidly throughout the years. VoIP Supply is a three-time Inc. 500/5000 honoree, listed by Business First as one of WNY's Most Admired Companies, as well as one of Western New York's Best Places to Work for many consecutive years.. VoIP Supply is also the first Certified B Corporation in Western New York.
About Invoxia
A new French High-Tech company, Invoxia's goal is to design, develop, produce and market telecommunication products which offer the user a simplified experience and improved comfort.
It is through a conviction of the quality potential yet under-exploitation of Voice over IP communication, and by observing its low-cost niche, that Invoxia was born. It defines itself around an innovative idea, and the talents needed to conceive and develop technologies which embody that idea.
Invoxia's mission is to modernize business telephony by providing high quality Bluetooth docking stations and VoIP desktop phones. Since the beginning we focus on simplifying the user experience, improving its comfort and efficiency, providing an exceptional sound quality thanks to our In Vivo Acoustic technology.