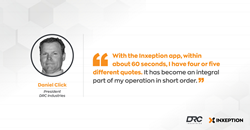 "Today, we have more than 400,000 users searching 500,000 industrial products manufactured by our partners."
CUPERTINO, Calif., and LOUISVILLE, Ky. (PRWEB) February 02, 2023
Inxeption, the leader in Industrial Commerce, is growing its footprint in downtown Louisville as the city and state of Kentucky experience an economic resurgence.
Louisville Business First and other local media recently highlighted Inxeption, an online marketplace bringing the Amazon experience to industrial commerce, as one of the companies leading a recovery of the downtown area.
Last year, the state ended the strongest two-year period of economic growth in its history, netting $24 billion in investments during that time. Inxeption announced in September a $125 million investment in Louisville over the next five years.
The company is currently hiring for a range of operations and engineering positions to add to the 100-plus engineers and systems integrators currently creating the digital future of Industrial Commerce. The Kentucky Council on Postsecondary Education has projected a statewide increase in engineering jobs of more than 11.2 percent by 2029, from 2020's total. That growth, almost a half-percent larger than the national average, is yet another reason Inxeption is looking to grow in Kentucky.
From its operational headquarters in Louisville, Inxeption is shifting the Industrial Commerce narrative, digitizing a manual industry and minimizing the challenges of making, selling and shipping industrial products.
"Inxeption is one of the fastest-growing private companies in Kentucky. We've created the world's largest digital industrial commerce ecosystem by uniting on our platform more than 1,500 manufacturers, distributors and business partners that have a market value of more than $50 billion," said Josh Allen, Inxeption's CCO. "Today, we have more than 400,000 users searching 500,000 industrial products manufactured by our partners."
Extensive supply chain infrastructure supports commerce partners buying and selling on the platform. Inxeption's supply chain apps are digitally integrated with the world's largest freight providers across truckload, less than truckload, ocean and parcel modes, delivering more than 2 million transportation quotes and booking in excess of 1 million shipments online to date.
When Daniel Click, president of Carrollton, Kentucky-based DRC Industries, started using Inxeption's apps to find LTL and truckload capacity, he was able to reallocate four employees from the task of booking shipments. He said working with Inxeption has saved him 10-20 percent on shipping rates he had been quoted by brokers. And the centralized, online nature of the apps has made life easier.
"I wanted to make the arranging of the freight – the pricing and the coordination – simpler. There's been a lot of manual effort involved in that, and I knew there had to be a better way," he said. "I wouldn't want to live without Inxeption at this point. It has become an integral part of my operation in short order."
Meet the Inxeption team at these February events:
Intersolar North America, February 14-16
TPM Tech, February 23-24
About Inxeption
Inxeption is the leading technology platform digitizing the global Industrial Commerce value chain. We are advocates for our ecosystem of suppliers and buyers, enabling them to Do Business Better.
Get in touch: LinkedIn