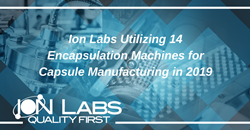 TAMPA, Fla. (PRWEB) March 28, 2019
Ion Labs now has 14 encapsulation Machines currently in use in their contract manufacturing operation. Ion Labs has 8 double & triple head encapsulation machines that now produce 8 million capsules per shift. Along with 6 liquid encapsulation machines with the capability of manufacturing liquid capsules, capsule-in-capsule (with bands), beadlet capsules and beadlet-in-liquid capsules. These liquid capsule product forms are newer to the industry and provide an innovative delivery system.
Other Manufacturing Capabilities for Ion Labs Include:

11 powder blenders ranging from 25kg to 14,000kg per batch
7 tablet presses (8 million tablets per shift)
3 coating machines ranging from 120kg to 600kg per pan load
3 pill bottling lines (125,000 bottles per shift)
2 powder filling lines (30,000 bottles per shift)
Blister packing
Unit dose PVC vials
Automatic cartoning machines (bottles and blisters)
Shrink wrapping (bottles, trays, etc)
Shrink sleeving
Sachets (tablets/capsules [including multi-packs] and powders)
Stick packs
8 liquid/cosmetic mixing tanks ranging from 80 to 3,000 gallons
4 liquid/cosmetic filling lines (100,000 bottles per shift)
About Ion Labs
Ion Labs, Inc. is an FDA registered, cGMP certified custom contract manufacturer that has been providing customers with the highest quality products in the supplement, pet, OTC and skin care manufacturing. Ion Labs offers a wide array of product development, contract manufacturing, packaging, raw material/finished product testing, and regulatory support to domestic and international customers.
Ion Labs guarantees three main components to every client: transparency, trust, and traceability. Transparency in their operations and communication. Trust in their methodology and experienced staff, and traceability in the high-quality products they develop and continue to test for stability year-after-year. When businesses decide to partner with Ion Labs and become a customer, they come on-board with the idea to recreate existing products from their already successful catalog and continue to create new products to build their portfolio.
All private label supplements and related inquiries are processed through Ion Fulfillment, a separate business entity that focuses on private label supplements/skincare/pet products/hemp extracts and fully integrated fulfillment services.