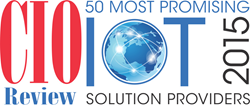 To us, the Internet of Things is all about advancing human ability.
Arlington Heights, IL (PRWEB) November 16, 2015
Pre-eminent product development firm Optimal Design announced today that they have won an award for being one of the world's 50 Most Promising Internet of Things Solutions Providers 2015, according to CIO Review Magazine. The award recognizes innovative leaders in the booming landscape of the Internet of Things (IoT) - a market that uses smart technologies and internet-connected devices to bring consumers closer to the things that matter to them. Whether transmitting health data, or a notifying a plant manager that equipment needs to be serviced, Internet of Things is going to change the way people live their lives and the way businesses operate. This stands to become a multi-trillion dollar market by the end of the decade, and Optimal Design is leading the charge.
"More than anything, we enjoy helping our clients break into this profitable space," stated Sajid Patel, CEO and Principal at Optimal Design. "To us, the Internet of Things is all about advancing human ability. Our knowledge in wireless and connected electronics, our multi-disciplined team collaborating under one roof, and our insights on the end user, gives us a distinct advantage." Patel goes on to explain, "Several industries are adopting IoT solutions for increasing efficiency, improving their customer's experience, and establishing additional revenue streams. We are thrilled to be recognized by CIO Magazine for our leadership. It reaffirms our belief in the promise of the Internet of Things and our ability to create successful solutions for our clients and their customers."
CIO Review Magazine couldn't agree more, "We see a high demand for IoT deployment in the coming future and the necessity for competent IoT solutions providers. In the last few months we have come across hundreds of IoT solutions providers, and shortlisted some of the pioneering companies who have helped manufacturers and retailers and several other enterprises in tackling IoT's impediments."
"Optimal Design is proud to have achieved this distinction in delivering these services and to be recognized at the top of the list," says Patel. Optimal Design's deep expertise in the integration of product design, engineering and technology—with specific experience in the wearable devices and mobile products industries—makes them the perfect partner for businesses looking to reap the rewards the Internet of Things arena.
ABOUT Optimal Design
Optimal Design is an award-winning product development firm specializing in the design and engineering of Mobile Products, Virtual Reality Systems and devices for the Internet of Things. Optimal's integrated and in-house services include technology R&D, industrial design, mechanical and electrical engineering, software development, RF design, prototyping and production sourcing. With a key role in over 150 patents over the past 15 years, Optimal brings a proven track record in creating patentable intellectual property that protects the client's investment. Optimal focuses on designing for manufacturability and success in the marketplace at optimized margins. Please contact info(at)optimaldesignco(dot)com or visit http://www.optimaldesignco.com to learn more.