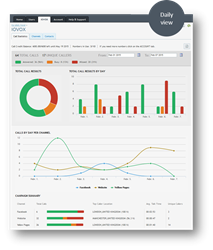 Blacknight's business customers want to make informed decisions about how to invest in their sales and marketing efforts
SEATTLE, WA (PRWEB) May 12, 2015
IOVOX, a global cloud-based provider of communications analytics for Enterprise and Small and Medium Businesses (SMBs), has announced an agreement with Blacknight, a leading hosting provider in Ireland. The agreement, announced at the Odin Summit in Seattle, Washington, will enable Blacknight to offer the IOVOX analytics solution as a new value added service for business customers.
As previously announced, the IOVOX analytics software is certified APS 2 by Odin as part of Odin Service Automation. Service Automation has been deployed and configured in hundreds of environments and is used by 50 percent of the world's top 40 telecommunications companies, as well as many of the world's largest hosting companies.
"The announcement we're making today with Blacknight reflects our strategy to partner with leaders in cloud hosted solutions to make IOVOX's analytics pervasive in the SMB market," said Ryan Gallagher, CEO of IOVOX. "Blacknight is a leading provider of solutions to small businesses and they recognize that integrating IOVOX provides an important new tool to improve customer engagement and retention in a growing, but highly competitive market."
Easily provisioned through Service Automation, the IOVOX software gives telecom and hosting companies the ability to bring real-time, value added communications analytics solutions to their customers.
"Blacknight's business customers want to make informed decisions about how to invest in their sales and marketing efforts," said Michele Neylon, CEO of Blacknight. "The IOVOX analytics platform gives us the ability to deliver highly relevant, actionable information that addresses a real need in our market."
Through its cloud based analytics platform, IOVOX enables marketing decision makers in any size business that advertises in multiple channels to see instant results from campaign activity. These real time results can be further enhanced with deeper analytics to provide transformative business insights and improved targeting and decision making.
For telecommunications and hosting companies that use the Service Automation platform, inclusion of the IOVOX analytics solution is a powerful addition to other hosted service options. IOVOX reseller partners can increase revenue per customer while enhancing retention from analytics services that yield tangible financial returns for business customers.
"Odin Service Automation was designed to enable our telecom and hosting customers to quickly and easily offer value added services to their end users," said Alex Danyluk, vice president, Alliances, Odin. "We're delighted to see IOVOX's certified APS 2 package for their analytics software be adopted by a leading hoster, Blacknight, and we look forward to seeing many more follow."
About IOVOX
IOVOX is a global leader in cloud analytics for business communications. Our analytics platform is trusted by leading global brands and more than 300,000 small businesses around the world, empowering marketers and operational managers with transformative business insight. For more information visit IOVOX. Follow us on LinkedIn and Twitter.
About Blacknight
Blacknight are an Ireland based, ICANN accredited domain registrar and hosting company. Recipients of several awards for their revolutionary use of social media, Blacknight are one of Europe's most cutting edge Internet companies. Blacknight constantly seek to lead the way by introducing innovative solutions for its client base and provide dedicated servers and co-location as well as a comprehensive range of Microsoft Windows and Linux based hosting plans and domain name registration services to business globally. IP transit services and other solutions for more demanding business and academic customers are offered a la carte. For more information visit Blacknight.