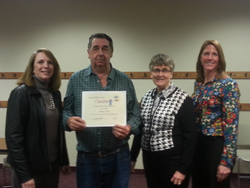 "Receiving the Model status in our organization will assist in seeking funding needed to continue providing the resources families and caregivers need in our counties." says Elizabeth Stanek, Executive Director of Linking Families and Communities. "We are
Fort Dodge, IA (PRWEB) February 03, 2015
The Board of Directors for Early Childhood Iowa (ECI) released the announcement on January 22nd that Linking Families and Communities was awarded "Model" status, which is the highest level achievable in a statewide quality improvement process called "Levels of Excellence." The Linking Families and Communities office is located in Fort Dodge under the direction of Elizabeth Stanek, Executive Director. The organization serves the counties of Webster, Pocahontas and Calhoun County providing resources to caregivers of young children from birth to age five.
"Linking Families and Communities pushes the community forward to assist families with young children," said Shannell Wagler, Facilitator, ECI. "Though review of written material and conversations with Linking Families and Communities Board and community partners, it is evident there are strong collaborative relationships."
Under Levels of Excellence, Model status indicates exceptional standards of functioning on a seven-point criterion. In Iowa, there are 40 total ECI areas with some of these covering multi-county territories. Linking Families and Communities is one of only seven areas to have achieved Model status since the process began in 2011.
Levels of Excellence measures local ECI areas efforts to satisfy required responsibilities and attain best practices to support communities served and advance system building. The process also allows for flexibility and creativity in performing as an early childhood organization. Participation is required to remain an ECI area.
"The work of the Linking Families and Communities Board meets and on many levels exceeds the intent in Iowa law for achieving desired results through community planning to improve the quality of life for young children and families that live in Calhoun, Pocahontas and Webster," said Shanell Wagler of the State ECI Office and Lead Reviewer for LOE.
Linking Families and Communities fulfilled all foundational criteria and surpassed in additional measures of best practice. This rating means Linking Families and Communities will be designated for five years as Model; receive financial assistance for equipment and fiscal processes; and be allowed flexibility in use of funding for this area.
"Receiving the Model status in our organization will assist in seeking funding needed to continue providing the resources families and caregivers need in our counties," says Elizabeth Stanek, Executive Director of Linking Families and Communities. "We are also much honored with this recognition and how it furthers our community services."
As an ECI area, Linking Families and Communities is legislated and funded by the state to improve the lives of local children age birth to five. ECI (http://www.earlychildhoodiowa.org) empowers local communities toward this purpose through community planning and implementation of early childhood resources based on local family needs.
Linking Families and Communities is located at 822 Central Avenue, Suite 340, Fort Dodge, IA 50501. Additional information is available by calling 515-955-5437 or visiting the website at http://www.linking-families.com.