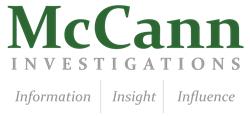 Austin, TX (PRWEB) May 04, 2014
McCann Investigations, a company in Texas that provides trusted digital security and private investigations services to clients in a wide range of industries, announced that it uses some of today's most cutting-edge technologies to find evidence in intellectual property theft cases.
The theft of intellectual property occurs when someone steals or misappropriates ownership of an idea, blueprint, recipe, trademark, copyright, design or more. This crime can be extremely harmful to businesses both large and small and requires the services of a skilled investigator to solve.
"We understand the frustration and anger in our clients when they discover that someone has stolen their intellectual property," said Daniel Weiss, Managing Partner at McCann Investigations. "The technology that we have at our disposal ensures that we can quickly get to the bottom of these cases and put a stop to the theft and the harmful effects it has had on our clients."
One common method of investigating these types of crimes is to conduct a thorough digital forensics analysis. McCann's Austin investigators delve through computers and mobile devices in hopes of extracting evidence from texts, emails, social media, calendars, documents and more. The case could hinge on evidence found in digital formats, and McCann's investigators have a significant amount of experience in this type of investigation.
The investigators also use a variety of covert surveillance and remote viewing tools to track the daily activities of the investigation target, searching for any evidence of guilt.
"Every company should be proactive in its approach to intellectual property theft," said Weiss. "Our investigators are ready and waiting to assist you with your case in any way possible."
For more information about the services provided by McCann Investigations in the Austin area, visit the company's website at http://www.mccanninvestigations.com and follow the company on Twitter at @mccangi.
About McCann Investigations
McCann Investigations is a Texas-based private investigations practice focused on comprehensive investigations incorporating digital forensics, surveillance, undercover work and background checks for clients in various case types. Service areas include intellectual property theft, non-compete enforcement, fraud, embezzlement and family law. McCann Investigators are experts in the latest computer forensics tools and are licensed with the state of Texas. McCann examiners have provided expert testimony and reporting in hundreds of cases across the state.