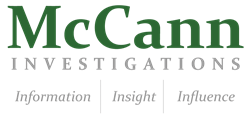 San Antonio, TX (PRWEB) April 26, 2014
McCann Investigations, a firm based out of Texas that specializes in providing high-quality private investigations and digital security services, announced that it conducts detailed background checks to gather some much-needed corporate intelligence at the outset of its intellectual property theft investigations.
Intellectual property theft refers to the stealing of property to which a person or company has artistic or intellectual ownership. Common examples include trade secrets, recipes, manuscripts, blueprints, copyrights and more. McCann's San Antonio investigators begin researching these cases by conducting a detailed background analysis of the investigation target, the findings of which influence how the rest of the case will progress.
"These background checks really are the backbone of every intellectual property theft investigation," said Daniel Weiss, Managing Partner at McCann Investigations. "The information that we uncover during this phase gives us a firm understanding of how to proceed in the case and find a successful result for our client."
The initial phase of this background analysis is to sit down with the client and discuss the issue at hand, including any available information about the potential perpetrator(s). The investigators then proceed to research criminal records, civil issues, employment history, assets and more to get a better idea of what they're working with.
McCann's San Antonio investigators also spend a great deal of time analyzing the target's digital footprint. Evidence of intellectual property theft is often left in devices such as computers or mobile phones, so investigators must use the high-tech equipment at their disposal to extract this evidence from a variety of sources.
"Our process has led to a lot of success in this practice area, and we are pleased to be able to assist our clients in this way," said Weiss. "It is important that any victims of intellectual property theft act quickly to prevent catastrophic damage."
For more information about the services provided by McCann Investigations in the San Antonio area, visit the company's website at http://www.mccanninvestigations.com and follow the company on Twitter at @mccangi.
About McCann Investigations
McCann Investigations is a Texas-based private investigations practice focused on comprehensive investigations incorporating digital forensics, surveillance, undercover work and background checks for clients in various case types. Service areas include intellectual property theft, non-compete enforcement, fraud, embezzlement and family law. McCann Investigators are experts in the latest computer forensics tools and are licensed with the state of Texas. McCann examiners have provided expert testimony and reporting in hundreds of cases across the state.