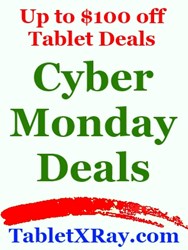 Not all iPad deals on offer can be recommended.
Chicago, IL (PRWEB) December 02, 2013
There is no arguing that Black Friday and Cyber Week are the best periods for iPad deal hunters. Usually, the newest model of a tablet is not discounted during these mega holiday shopping events. Instead it's the older generations that get a price cut. 2013 was different in that November 29th Friday saw handsome discounts on the latest 5th generation iPad 5. iPad deals are no different as temporary price cuts on both the white and black/space grey models went live as early as Sunday.
Click here for the TOP 2 iPad Deals and other Current Tablet Deals.
In addition to the price cuts on the Apple iPads, the much anticipated Cyber Monday Kindle Fire HDX deals also went live as early as Sunday afternoon. Considering that approximately 34% of the American population aged 18 and over own a tablet computer, there's no surprise that all major retailers like Best Buy, Target, Amazon and Walmart have offered steep discounts on these tablets. Just like HDTVs, tablet deals have become an integral part of sales events. Even children's toy stores like Toys "R" Us were seen to offer tablet deals, especially last Friday.
http://TabletXRay.com/Holiday-Deals/ summarizes the TOP 5 tablet deals of December 1st Monday where people are expected to shop online from work. The 5 deals currently include two Kindle Fire deals, two iPad deals and one Samsung Galaxy Tab 3 deal. Even though these are the top 5, they go on to list all available tablet deals and they will be continually adding fresh tablet deals as the different stores announce them throughout the day.
One important point they emphasize is that a $100 discount on any iPad doesn't necessarily make it a good Cyber Monday iPad Deal. This holds true for Android and Windows tablet as well. A particular generation of tablets from one of the leading brands had several glitches as soon as it was launched. The manufacturer came up with a newer generation, rectifying the problems, within a matter of months. Not all tablets of this generation were defective, however, an online search shows many tablet owners complaining of over-heating, slow battery charging, sluggishness, quick battery drain etc. for this particular model. This is why it is important for a potential tablet buyer to do thorough research on the model of interest before making a purchasing decision.
Even though the latest iPad Air is discounted, like every year, the discounts on the previous generation iPads are steeper. There's no doubt that a new model is always more powerful and better than the previous generation in many ways. However, for most non-tech iPad buyers that are looking to save money on their purchase, buying the 4th generation iPad with Retina display is not a bad idea. Both the 4th and 5th generation models have the same resolution at 2048 x 1536 pixels and 264 ppi (pixels per inch). Even though the Apple A7 processor of the new iPad Air is more powerful than the A6X, most iPad users that will use it for regular web browsing, checking email, listening to music, watching movies and reading eBooks will not even notice the difference.
In addition to reviewing iPad Cyber Monday deals and Kindle Fire HDX holiday deals, they have also compared the iPad Air to the 8.9" Kindle Fire HDX and Google Nexus 10 in a series of tabular comparisons. These comparisons are bound to be useful for anyone shopping for iPad sales this Cyber week and rest of the holiday season.