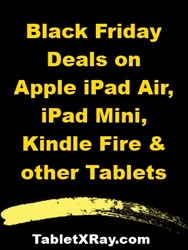 Up to $150 savings on an iPad with retina display this Black Friday.
Chicago, IL (PRWEB) November 27, 2013
Given how popular the Apple iPad is, it's not surprising that everyone and their brother is anxiously waiting for iPad Black Friday Deals this 2013 shopping season. The good news is that, it is possible to save as much as $150 on certain models of the Apple iPad this week. The iPad Air, iPad Mini, previous generation iPad with Retina Display (commonly known as the iPad 4) and the iPad 2 are currently on sale or will be on sale this Black Friday 2013.
Click here for all Holiday iPad Deals and other tablet Deals.
A total of 30 Black Friday Tablet Deals are shown on http://TabletXRay.com/Holiday-Deals/, including those on the Apple iPads, from 6 different retailers including Staples, Target, Best Buy, Walmart, Office Depot and Toys "R" Us. The page is continually updated and everybody interested in saving on a tablet computer this holiday season should read it to make themselves aware of the kind of in-store and online deals available right now.
Typically tablet deals don't start before the day of Thanksgiving, but this year, certain retailers have started iPad Air Black Friday sales as early as Monday of the Black Friday week. Usually, it's the previous generations that go on sale on Black Friday and Cyber Monday. This year, previous generations as well as the current generation iPads are on sale. However, as expected, the biggest price cut of $150 is on the previous generation iPad 4 with Retina Display. The good news is that, even though it's the previous generation, it's an extremely good tablet. In fact, it has the same resolution/pixel density as the new 5th generation iPad Air. So consumers are really not "losing" anything considerable by settling with the older model. This could not be said last year because last year's previous generation was the iPad 2 and it did not have a retina display.
In addition to Black Friday iPad deals, there are several deals on the Kindle Fire tablets as well. As a matter of fact, Black Friday specials are available on the first generation Kindle Fire as well as the 2nd and 3rd generation Fire HD and Kindle Fire HDX. However, not all of them are in the form of price cuts. Some deals include a gift card, coupon or pre-paid VISA card together with the tablet purchase. Some retailers offer up to $50 coupons in addition to a $40 price cut on the Kindle Fire HD making it the best Kindle Fire HD Black Friday in 2013.
In addition to publishing Black Friday iPad and Kindle Fire deals, they have also published a comprehensive Kindle Fire HDX vs iPad vs Nexus comparison as well as a Kindle Fire HDX review that looks at critical aspects of hardware, software and the content eco-systems. These are recommended reads for anyone that is looking for a Black Friday or Cyber Monday tablet deal this holiday shopping season.