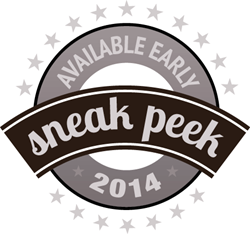 We're beyond excited to have this opportunity to showcase Sphere and AURA, which will be available in early 2014, to this year's attendees at CETW
Waterloo, Ontario (PRWEB) October 21, 2013
Armodilo's booth at the 2013 Consumer Engagement Technology World (CETW) convention will offer a sneak peek at two impressive new tablet display products, Sphere™ and AURA™. Sphere is a fun, practical design for point-of-purchase use, while AURA is an elegant, brandable kiosk.
"We're beyond excited to have this opportunity to showcase Sphere and AURA, which will be available in early 2014, to this year's attendees," says Iles Guran, Founder & President of Armodilo.
"Sphere is our new point-of-purchase display system designed specifically for retail environments," Guran explains. "It offers both a quirky, fun design and a practical, secure way to use a wide variety of tablets (Apple®, Android® and Windows® based) for point-of-purchase needs."
"AURA, our brandable tablet display system," Guran continues, "provides a new way to leverage campaigns in retail, hospitality and exhibit environments. AURA allows users to quickly and easily change out custom printed, illuminated graphic panels on the tablet kiosk for enhanced visual appeal."
Armodilo Display Solutions will be in Booth #520 from November 7–8, 2013.
Additional information on Armodilo products, including Armodilo(ex) and Armodilo(rt), its multiple award-winning, lightweight and multi-tablet compatible kiosk systems, can be found at http://www.armodilo.com.
About Armodilo Display Solutions
Armodilo Display Solutions is a multiple award-winning tablet display stand manufacturer located in Ontario, Canada. It offers a variety of tablet display stands and accessories for tradeshow, event, retail and corporate markets. Armodilo sets itself apart by creating highly refined products for discerning brands around the world.
For more information about Armodilo, contact:
Iles Guran Founder & President
Armodilo Display Solutions
sales(at)armodilo(dot)com
1-800-975-5946