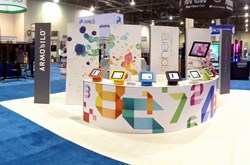 Tablet display solutions create an easy to integrate, cost effective, and interactive opportunity where customers have a more personalized and private chance for engagement which is extremely useful for active environments
Waterloo, ON (PRWEB) February 19, 2014
There was an amazing turn out last week for Digital Signage Expo (DSE) at the Sands Expo & Convention Center in Las Vegas. DSE was a huge success by almost every measure, and Armodilo's two new products Sphere and Aura were by all accounts some of the most notable new products.
"We are thrilled by the amount of interest in our display solutions for retail and corporate environments," says Iles Guran, founder and president of Armodilo Display Solutions. "It's fantastic to see smaller, personalized interactive experiences such as our tablet stands seeing such a great amount of traction at one of the world's biggest digital signage shows. These personalized experiences are a great addition to larger digital signage."
"Tablet display solutions create an easy to integrate, cost effective, and interactive opportunity where customers have a more personalized and private chance for engagement which is extremely useful for active environments," adds Guran. "Interest in the new products was amazingly higher than we'd even hoped for – Sphere with its quirky personality and Aura the elegant kiosk are great solutions for implementing smaller digital signage."
Armodilo Display Solutions was thrilled to have retail software provider, Beehivr join them at DSE. Beehivr provides a retail point-of-engagement development platform and in conjunction with Armodilo's stands created the perfect solution to retail initiatives.
Armodilo Display Solutions enjoyed meeting the attendees of DSE and would like to thank everyone who stopped by!
For more information about Armodilo's award winning lineup of tablet display products please visit the website or call 1.800.975.5946 for additional information.