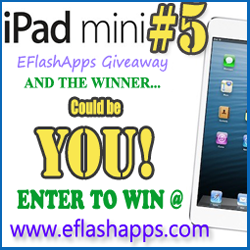 Promoting free education globally is an EFlashApps core value and the iPad Mini giveaway reflects upon that mission
Fredericksburg, VA (PRWEB) July 12, 2013
EFlashApps, Virginia based developer of kids apps, music and nursery rhymes videos launched a 12 iPad Mini Giveaway to be raffled before the end of year 2013. Each time a new iPad Mini is available for the giveaway, the raffle is posted on the company's website and Facebook Page.
"Promoting free education globally is a core value of the company and the iPad Mini giveaway for learning with technology reflects upon that mission," said Meeta Shah, CEO of EFlashApps. "Our most recent iPad Mini winner is in Romania and we shipped it internationally!", said Shah. All apps developed by EFlashApps are free to download on the Apple App Store, Google Play and Windows Phone Store. The free apps contain ads and versions without ads are available via in-app purchase upgrade for nominal one-time charge.
Using the Rafflecopter program on EFlashApps website, potential winners can enter to win the raffle and the only required option is to like the company's Facebook page. Users then gain access to getting several additional entries by following the links and instructions provided on the raffle entry page. These include liking the company's Facebook page, inviting other friends to like the EFlashApps FB page, sharing a post, subscribing to the EFlashApps YouTube channel, pinning a post on Pinterest or Twitter and more. Each user can get over 50 additional entries into the raffle and can gain additional entries by following the steps daily. The raffles close and winners are announced once a certain number of Facebook likes are reached.
Four iPad Minis have already been raffled and the fifth raffle is ongoing. Winners are announced on the EFlashApps Facebook page and an email is sent out to the winner as well. The raffle is open for anyone to enter and the company ships the iPad Mini to the winner worldwide.
Why wait? Get your entry in to win an iPad Mini. Visit http://www.eflashapps.com and enter to win now.
About EFlashApps:
Virginia based EFlashApps is an ed-tech company developing mobile applications, games, music and videos geared towards creating an online curriculum for early childhood education.
EFlashApps Baby Flash Cards apps are now available in 12 languages. Additional apps include series of Sight Words apps for pre-primary to second grade levels and Kids Picture Dictionary. EFlashApps has also launched a music album: Nursery Rhymes – All Time Children's Favorite Songs, available on iTunes. The EFlashApps YouTube Channel features original animated videos of songs from the Nursery Rhymes album. The company provides sneak previews, promo codes, updates and news on its website and social media pages. Parents and educators are encouraged to join EFlashApps Facebook page for these updates.