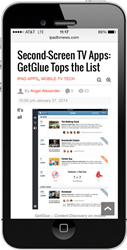 Mobile TV streaming doesn't just apply to a niche audience. Almost everyone has a need for streaming online content.
New York, NY (PRWEB) February 25, 2014
Today 40 percent of YouTube traffic comes from mobile devices, and 15 percent of global online video hours are watched on mobile according to Business Insider. After its inaugural post about the open source media app VLC for iOS, IPAD TV NEWS has been reviewing popular and up-and-coming iPad apps for streaming video, both free and premium. It has also examined the functionality and growing popularity of "second-screen" apps that allow viewers to engage further with programming by reading background information, tracking game or player stats, and interacting on social media with fellow fans. Finally, IPAD TV NEWS has been keeping a pulse on current research in the online streaming entertainment industry to report on consumer habits regarding mobile TV and the adoption rates of various streaming subscription services.
"Today, mobile TV streaming doesn't just apply to a niche audience. Almost everyone has a need for streaming online content – cord-cutters, cord-shavers, frequent travelers, families wanting to watch different programming, or households trying to reduce the need for second or third TVs," says the chief blog author, Angel Alexander. "I started IPAD TV NEWS to deliver consumers direct and unbiased analysis of the merits of apps, platforms, and streaming services in the mobile TV space." Angel noted that IPAD TV NEWS will cover stories ranging from garage upstarts operating in niche markets to large media and pay television companies like HBO, Comcast, DirecTV, Dish, and Time Warner making forays into mobile.
IPAD TV NEWS will publish blog posts examining the latest updates in the mobile TV app space and new research findings discussing viewer streaming habits. Following on its post about how to live stream the Super Bowl on mobile devices, IPAD TV NEWS will continue to update readers on the best ways to access popular sports and entertainment programming events from various streaming content providers. The voice of the blog is centered around concise and consumer-friendly commentary on the most innovative iPad apps, mobile TV technologies, and streaming content providers operating in the entertainment streaming industry.