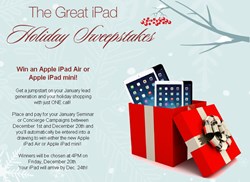 Tampa, FL (PRWEB) December 11, 2013
Recognizing that the rush and stresses of the holiday season often prevents many financial planning firms from focusing on their marketing and lead generation in the new year, RME today announced "The Great iPad Holiday Sweepstakes" - a two-in-one opportunity which allows advisors to win a gift to give for the holidays and get a jump start on 2014 prospecting.
Customers who place and pay for January Seminar or Concierge Campaigns between December 1st and December 20th will be automatically be entered into a drawing to win either the new Apple iPad Air or Apple iPad mini. Winners will be chosen at 4PM on Friday, December 20th to ensure that the iPads will arrive by Dec. 24th.
For more information on the Sweepstakes, go to: http://goo.gl/gGN3Cb.
"For the last 17 years we start getting urgent calls from our clients, just a few days before the Christmas holiday, wanting to execute a lead generation campaign so they can have prospects to meet in January," said RME Founder and President, Jorge Villar. "We created this sweepstakes to give our clients some additional incentive to plan their January 2014 marketing now, and not put if off till the last minute."
According to Villar, the timeline to plan and execute a "best practices" lead generation campaign is 35-40 days, thus the importance of getting started earlier in December.
About RME, LLC
Founded in 1995, RME is a comprehensive direct marketing solutions company based in Tampa, Florida, and is a LeadingResponse company. RME specializes in driving consumer response by leveraging turnkey in-house capabilities to put data in action for lead generation campaigns, provide best-in-class marketing services and develop social event marketing programs. RME leads in financial services, franchising and healthcare. For more information, visit http://www.RMELeads.com.
***