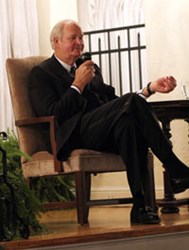 Dan is a riveting speaker and knows how to capture an audience's attention and invite them to hang on every word.
Cleveland, OH (PRWEB) December 10, 2013
Using updated stories you've never read or heard before, Dan Ruminski's entertaining presentation of Millionaires' Row on January 26, 2014, will be the highlight of an evening to raise funds for the Willoughby Rotary Foundation's iPads for Autism project. The fundraiser will take place at Pine Ridge Country Club in Wickliffe, Ohio. The venue is part of the history of the area, as the country club was formerly the Corrigan Estate, Nagirroc.
The evening will feature a cash bar at 5:30 p.m. EST, dinner at 6:00 p.m.; followed by The Cleveland Storyteller's live presentation at 7:00 p.m. Attendees will receive a copy of Dan's book, Cleveland in the Gilded Age, A Stroll Down Millionaires' Row.
Dan Ruminski's presentations are not dry history lectures, but rather entertaining stories loaded with great characters including the Rockefellers, Whites, Drurys, and others who made Millionaires' Row one of the most beautiful and wealthiest streets in the world. From 1875 to 1929, Euclid Avenue's Millionaires Row was considered by many to be wealthiest avenue in the world. As Dan will undoubtedly mention during the evening, "Even Mark Twain proclaimed it 'one of the finest streets in America!'"
Join Dan to hear marvelous story about the "Row" and the day-to-day lifestyles, fortunes and tragedies of its families. Hear stories of who built the mansions, and how fortunes were made. Photos of some of the finest homes in the world and their residents will be on display. Millionaires' Row, with its winter sleigh races and its elaborate parties, was once Cleveland's gem.
Dan Ruminski creates a spellbinding entertainment experience--there are no notes, teleprompters or lecterns. Dan's stories are based not only on published works, but also on interviews of the friends and descendants of the families of the era. This enables Ruminski to reveal dramatic details and unheard stories of when Cleveland was one of the most progressive and wealthy cities, and the home of people and inventions that changed the world.
What started as one man's hobby and passion for Cleveland's history has evolved into an ongoing effort to promote the city, and counter the old, worn and unflattering Cleveland stereotypes. Starting off talking to Rotary Clubs, small groups, and a few posts on his business blog, word of mouth led to Dan Ruminski speaking of Cleveland's glory days to full house audiences and effective fundraisers.
"Dan is a riveting speaker and knows how to capture an audience's attention and invite them to hang on every word," says Tom Barratt, Founder of the Horse Country Road Tour.
About
The purpose of Cleveland History Lessons is to explore Cleveland's unique history with regard to the many "firsts" -- inventions, inventors, etc. -- that led the city to national and world recognition. Using little-known, carefully researched stories, Dan Ruminski, aka The Cleveland Storyteller, creates entertaining presentations of the history, hoping to apply these lessons, and help return Cleveland to greatness.
Mr. Ruminski was a teacher and coach at Gilmour Academy before buying his floor matting products business, Martinson-Nicholls. But his passion for history remained, and he has become a recognized expert on Cleveland history. When he gave his first talk on Millionaires' Row at library, where 40 were expected, over 100 showed up.
The Cleveland Storyteller continues to research the families and history of Northeast, Ohio. The clevelandhistorylessons.com website features his DVD and book, speaking schedule, and information on how to contact him for fundraisers.