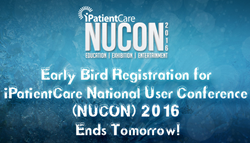 The NUCON 2016 promises to provide deep insights on understanding MACRA/MIPS along with Care Coordination/Analytics and Telemedicine. To register or learn more, email Sales Department at Sales@ iPatientCare.com
Woodbridge, NJ (PRWEB) September 20, 2016
iPatientCare, a pioneer in cloud-based ambulatory EHR and Revenue Cycle Management services, announces that early bird registration for its much awaited gala annual event, National User Conference (NUCON) 2016, which will be held from October 21st through 23rd, 2016, will end tomorrow.
The iPatientCare National User Conference (NUCON) 2016, scheduled from October 21st through 23rd, offers a boundless learning opportunity to all of its members to stay up-to-date on the upcoming industry developments as well as the latest and upcoming enhancements in the iPatientCare product suite. Being a very successful platform, NUCON also allows iPatientCare channel partners, end users, certified professionals, business partners, and the entire iPatientCare family to connect and communicate within themselves over education, exhibition, and entertainment.
With speakers Udayan Mandavia, CEO and Kedar Mehta, CTO, iPatientCare during Keynote plus specialists from iPatientCare and Certified Consultants to talk about CMS Incentives: Insights into MACRA/MIPS/APM and numerous health industry experts coming together for hosting the cutting edge industry knowledge, conversations and presentations.
The NUCON 2016 promises to provide deep insights on understanding MACRA/MIPS along with Care Coordination/Analytics and Telemedicine. Also, this will provide an amazing opportunity to learn how newer technologies offered by iPatientCare can contribute in making practices' workflow efficient and serve patients more effectively.
Early Bird registration ends tomorrow on Wednesday, September 21, 2016. To register or learn more, visit http://iPatientCare.com/National-User-Conference-2016/ or email Sales Department at sales(at)ipatientcare(dot)com.
About iPatientCare:
iPatientCare, Inc. is a privately held medical informatics company based at Woodbridge, New Jersey. The company's unified product suite includes Electronic Health/Medical Record and integrated Practice Management/Billing System, Patient Portal/PHR, Health Information Exchange (HIE), and Mobile Point-of-Care Solutions for both Ambulatory and Acute/Sub-acute market segments. iPatientCare has been recognized as a preferred MU partner by numerous Regional Extension Centers (REC), hospitals/health systems, and professional academies.
iPatientCare EHR 2014 (2.0) has received 2014 Edition Ambulatory Complete EHR certification by ICSA Labs, an Office of the National Coordinator-Authorized Certification Body (ONC-ACB), in accordance with the applicable eligible professional certification criteria adopted by the Secretary of Health and Human Services (HHS).
Full certification details can be found at ONC Certified Health IT Product List.
The ONC 2014 Edition criteria support both Stage 1 and 2 Meaningful Use measures required to qualify eligible providers and hospitals for funding under the American Recovery and Reinvestment Act (ARRA).
Visit http://www.iPatientCare.com for more information.