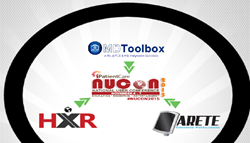 It is our pleasure to have ARETE Enclosures, MDToolbox and HxtoRx on board at the stupendous yearly occasion of iPatientCare to celebrate on November 6, 2015." – Pranav Patel, General Manager, iPatientCare.
Woodbridge, New Jersey (PRWEB) November 04, 2015
iPatientCare, Inc., a pioneer in mHealth, cloud-based ambulatory EHR, integrated Practice Management, and Patient Engagement solutions is glad to welcome ARETE Enclosures, MDToolbox and HxtoRx aboard at the National User Conference (NUCON) 2015 as sponsors and exhibitors.
NUCON, the yearly event at iPatientCare gives healthcare providers and their office staff a novel opportunity to stay aware of the propelling social medicinal service twists. It's a social event that engages individuals from the healthcare sector who utilize technology and information management on a regular basis. This event renders a stage that helps medicinal services specialists connect with experts and allows them to look at and get answers concerning industry happenings, upgrades, and best practices. Every one of these events help to achieve our objective with better outcomes and reduced costs through a blend of Education, Exhibition and Entertainment.
"Our comprehensive and information-packed sessions aim to cultivate learning of iPatientCare products and services amongst the attendees in a viable manner. A standard yet most energizing portion of NUCON 2015 will be the presentation showcasing leading innovations coordinated by iPatientCare administrators. Festivity is an inherent ingredient of iPatientCare's NUCON. Apart from knowledge dissemination about iPatientCare product suite, the event helps attendees to network and establish fruitful connections. The finale would incorporate an interesting diversion from the regular learning experience by featuring a lucky draw along with various recreational activities. It's our pleasure to have ARETE Enclosures, MDToolbox, and HxtoRx as sponsors at iPatientCare's much-awaited annual conference." - Pranav Patel, General Manager, iPatientCare.
"Gator Games LLC dba ARETE Enclosures is proud to be in partnership with iPatientCare. We believe our Kiosk ARETE Enclosures along with the iPatientCare Patient Kiosk Solutions will deliver registration cost reduction, higher patient satisfaction, and faster patient payments to the iPatientCare practice partners.
ARETE Enclosures delivers Secure and Ruggedized iPad Enclosures to iPatientCare Customers for the iPatientCare Patient Registration and Payment Solutions. The ARETE iPad Enclosures are designed manufactured, materials sourced in the United States of America. The ARETE product focus is on precision, quality, efficiency and customer service in order to deliver the best offerings in the tablet enclosures market." - Bill Bysinger; Executive Vice President, Gator Games LLC dba ARETE Enclosures.
"MDToolbox is proud to be a business partner with iPatientCare. MDToolbox offers state-of-the-art integration modules for health information technology, including e-Prescribing, EPCS (Electronic Prescribing of Controlled Substances) and Direct Messaging. The software modules focus on patient safety, security and transparent workflows for Providers. We are happy to be participating as a sponsor and exhibitor at the National User Conference (NUCON) 2015 and look forward to the direct user feedback from the conference." – Michael Conner, Director of Business Development, MDToolbox.
"We are really excited to be part of NUCON2015 this year. This is the first time we are participating as an exhibitor. It is a fantastic opportunity and a good platform to showcase our upcoming software. Being doctors ourselves, we understand the pain and efforts that are required by doctors for documenting HPI and ROS in the EHR. HxtoRx medical solution is an anatomical image based software. Through the patient portal, guided by the virtual physician assistant, patients create previsit data entry. This saves time for the physicians to create medical records and they will be able to generate reports for comprehensive level coding. HxtoRx software is interfacing with iPatientcare. This will be an optional feature available for all the doctors in the next few weeks. Please join us for a demonstration at the NUCON conference."- Uma Basavaraj, CEO, HxToRx.
About iPatientCare
iPatientCare, Inc. is a privately held medical informatics company based at Woodbridge, New Jersey. The company is known for its pioneering contribution to mHealth and Cloud based unified product suite that include Electronic Health/Medical Record and integrated Practice Management/Billing System, Patient Portal/PHR, Health Information Exchange (HIE), and mobile point-of-care solutions that serve the ambulatory, acute/sub acute, emergency and home health market segments.
iPatientCare EHR 2014 (2.0) has received 2014 Edition Ambulatory Complete EHR certification by ICSA Labs, an Office of the National Coordinator-Authorized Certification Body (ONC-ACB), in accordance with the applicable eligible professional certification criteria adopted by the Secretary of Health and Human Services (HHS).
Full certification details can be found at ONC Certified Health IT Product List.
iPatientCare Inpatient EHR 2014 (2.0) Received ONC HIT 2014 Edition Complete EHR Certification from ICSA Labs, determines ability to support eligible hospitals with meeting meaningful use stage 1 and stage 2 measures required to qualify for ONC Health IT funding under the American Recovery and Reinvestment Act (ARRA).
Full certification details can be found at ONC Certified Health IT Product List.
The ONC 2014 Edition criteria support both Stage 1 and 2 Meaningful Use measures required to qualify eligible providers and hospitals for funding under the American Recovery and Reinvestment Act (ARRA).
The company has won numerous awards for its EHR technology and is recognized as an innovator in the field, being a pioneer to offer an EHR technology on a handheld device, an innovative First Responder technology to the US Army for its Theatre Medical Information System, the first to offer a Cloud based EHR product. iPatientCare is recognized as one of the best EHR and Integrated PM System for small and medium sized physicians' offices; has been awarded most number of industry Awards; and has been recognized as a preferred/MU partner by numerous Regional Extension Centers (REC), hospitals/health systems, and academies.
Visit http://www.iPatientCare.com for more information.