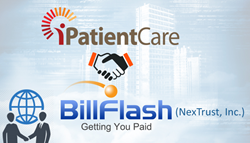 iPatientCare works hard to deliver solutions that adds value for physicians & their patients. This strategic partnership with BillFlash will help our users to achieve enhanced billing & payment usability" - said Pranav Patel, General Manager, iPatientCare
Woodbridge, NJ (PRWEB) December 08, 2015
iPatientCare, Inc., a pioneer in mHealth and cloud-based ambulatory EHR, Integrated Practice Management and Patient Engagement Solutions, announces the strategic partnership with BillFlash to enhance Billing & Payment usability in iPatientCare Application.
NexTrust, Inc. owns and operates BillFlash Services. NexTrust designed BillFlash with numerous innovations like fast online enrollments which let users to begin mailing in less than 30 minutes, online control tools which enable users to Review, Edit, Approve & Reject files and services to include paperless eBill, online ePay, & in-office OfficePay which provide users with the leading suite of integrated billing & payment services.
With integrating BillFlash Services in iPatientCare, medical practice can experience many bottom-line ROI benefits. It boosts up the payment process, lowering internal costs and increasing cash flow for medical practices. Integration with iPatientCare billing application will further reduces the steps to complete billing and payment work.
"iPatientCare works hard to deliver solutions that adds value for physicians' practices and their patients. Physicians' practices always look for methods to reduce costs while improving patient satisfaction along with increasing cash flow. This strategic partnership with BillFlash will help our end users to achieve enhanced billing and payment usability" – said Pranav Patel, General Manager, iPatientCare.
"We're very excited to partner with iPatientCare and their innovative solutions," said Shelly Boisvert, Director of Business Development of NexTrust, Inc. "Our best in class patient centric solutions for healthcare organizations will now be available to iPatientCare users which will help them to improve their cash flow."
iPatientCare, Inc. is a privately held medical informatics company based at Woodbridge, New Jersey. The company is known for its pioneering contribution to mHealth and Cloud based unified product suite that include Electronic Health/Medical Record and integrated Practice Management/Billing System, Patient Portal/PHR, Health Information Exchange (HIE), and mobile point-of-care solutions that serve the ambulatory, acute/sub acute, emergency and home health market segments.
iPatientCare EHR 2014 (2.0) has received 2014 Edition Ambulatory Complete EHR certification by ICSA Labs, an Office of the National Coordinator-Authorized Certification Body (ONC-ACB), in accordance with the applicable eligible professional certification criteria adopted by the Secretary of Health and Human Services (HHS).
Full certification details can be found at ONC Certified Health IT Product List.
iPatientCare Inpatient EHR 2014 (2.0) Received ONC HIT 2014 Edition Complete EHR Certification from ICSA Labs, determines ability to support eligible hospitals with meeting meaningful use stage 1 and stage 2 measures required to qualify for ONC Health IT funding under the American Recovery and Reinvestment Act (ARRA).
Full certification details can be found at ONC Certified Health IT Product List.
The ONC 2014 Edition criteria support both Stage 1 and 2 Meaningful Use measures required to qualify eligible providers and hospitals for funding under the American Recovery and Reinvestment Act (ARRA).
The company has won numerous awards for its EHR technology and is recognized as an innovator in the field, being a pioneer to offer an EHR technology on a handheld device, an innovative First Responder technology to the US Army for its Theatre Medical Information System, the first to offer a Cloud based EHR product. iPatientCare is recognized as one of the best EHR and Integrated PM System for small and medium sized physicians' offices; has been awarded most number of industry Awards; and has been recognized as a preferred/MU partner by numerous Regional Extension Centers (REC), hospitals/health systems, and academies.
Visit http://www.iPatientCare.com for more information.