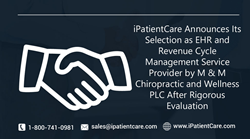 We saw an immediate increase in clinical efficiency of the staff in documentation. Moreover, iPatientCare has integration with numerous 3rd party applications, which made our work very smooth" said Aaron Steuck, DC from M & M Chiropractic & Wellness PLC
Woodbridge, NJ (PRWEB) February 18, 2016
iPatientCare, Inc., a pioneer in mHealth and cloud-based ambulatory EHR, Integrated Practice Management and Value-Added Revenue Cycle Management Services, announces Its selection as preferred EHR and Revenue Cycle Management Service provider by M & M Chiropractic and Wellness PLC after careful assessment.
M & M Chiropractic and Wellness PLC, led by Aaron Steuck, DC; is a busy practice that provides chiropractic services were looking for one stop solution for Revenue Cycle Management and cloud-based EHR solution with fully loaded features/templates for chiropractic specialty. After their careful assessment on various dimensions including pricing, ease of use, time for implementation, trainings and many other factors, iPatientCare emerged as the winner and hence is selected as preferred EHR and Revenue Cycle Management service provider. Being HIPPA compliant and winner of numerous awards in multiple categories, iPatientCare EHR is one of the most admired name among the physicians who love to switch from any other EHR.
"We are very delighted to have M & M Chiropractic and Wellness PLC with us," said Udayan Mandavia, CEO, iPatientCare. "This selection represents market trend of switching with ease to iPatientCare EHR for improved patient care and reduced costs. iPatientCare always tries to stay ahead of the game and we intend to be the preferred solution provider and one-stop shop for medical offices, offering our complete suite of products which includes award-winning EHR, Practice Management Software, RCM services, mobile and wearable technologies, and value added services like PQRS and MU."
"Being chiropractic specialist, we, at M & M Chiropractic and Wellness PLC, were looking out for a system which would easily blend into our current clinical workflow, not requiring us to get changed according to the system requirements. iPatientCare not only satisfied us on this but we also saw an immediate increase in the clinical efficiency of the staff in documentation. Moreover, iPatientCare has integration with numerous third party applications, which made our work very smooth." said Aaron Steuck, DC from M & M Chiropractic and Wellness PLC
About iPatientCare:
iPatientCare, Inc. is a privately held medical informatics company based at Woodbridge, New Jersey. The company is known for its pioneering contribution to mHealth and Cloud based unified product suite that include Electronic Health/Medical Record and integrated Practice Management/Billing System, Patient Portal/PHR, Health Information Exchange (HIE), and mobile point-of-care solutions that serve the ambulatory, acute/sub acute, emergency and home health market segments.
iPatientCare EHR 2014 (2.0) has received 2014 Edition Ambulatory Complete EHR certification by ICSA Labs, an Office of the National Coordinator-Authorized Certification Body (ONC-ACB), in accordance with the applicable eligible professional certification criteria adopted by the Secretary of Health and Human Services (HHS).
Full certification details can be found at ONC Certified Health IT Product List.
iPatientCare Inpatient EHR 2014 (2.0) Received ONC HIT 2014 Edition Complete EHR Certification from ICSA Labs, determines ability to support eligible hospitals with meeting meaningful use stage 1 and stage 2 measures required to qualify for ONC Health IT funding under the American Recovery and Reinvestment Act (ARRA).
Full certification details can be found at ONC Certified Health IT Product List.
The ONC 2014 Edition criteria support both Stage 1 and 2 Meaningful Use measures required to qualify eligible providers and hospitals for funding under the American Recovery and Reinvestment Act (ARRA).
The company has won numerous awards for its EHR technology and is recognized as an innovator in the field, being a pioneer to offer an EHR technology on a handheld device, an innovative First Responder technology to the US Army for its Theatre Medical Information System, the first to offer a Cloud based EHR product. iPatientCare is recognized as one of the best EHR and Integrated PM System for small and medium sized physicians' offices; has been awarded most number of industry Awards; and has been recognized as a preferred/MU partner by numerous Regional Extension Centers (REC), hospitals/health systems, and academies.
Visit http://www.iPatientCare.com for more information.