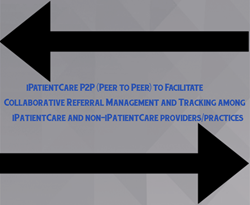 With iPatientCare P2P, both iPatientCare and non-iPatientCare users would be able to collaborate electronically to schedule appointments, patient charts, referral management, and referral tracking- Arnaz Bharucha, Senior Technology Officer, iPatientCare
Woodbridge, New Jersey (PRWEB) November 17, 2015
iPatientCare, Inc., a pioneer in mHealth and cloud-based ambulatory EHR, integrated Practice Management and Patient Engagement solutions, announced today iPatientCare P2P which will enhance iPatientCare product suite's collaboration and referral management capabilities.
iPatientCare EHR is known as a pioneer in implementing interoperability functionalities using industry standards. The opinions within the US healthcare IT have been quite expressive about focusing on interoperability among the EHR and between EHR and HIE, given the fact that certified EHR provisions are going to be a part of the game, confirmed by the announcement of CMS of the final rules with comment period for the Medicare and Medicaid Electronic Health Records (EHRs) Incentive Programs this week.
Kedar Mehta, Chief Technology Officer, iPatientCare said while announcing the launch of this product, "HIMSS 2015 at Chicago recognized iPatientCare for its pioneering effort in establishing interoperability between a Certified EHR and a third-party Certified HIE (Health Information Exchange). iPatientCare EHR was announced as the first ConCert by HIMSS™ certified ambulatory EHR under the interoperability testing and certification program which was launched earlier this year, and still is the only EHR that supports this level of interoperability. With the launch of iPatientCare P2P, we will facilitate referral management and tracking by including even non-iPatientCare providers."
iPatientCare P2P is designed for providing interoperability for peer-to-peer communications among not only iPatientCare users, but including any provider/practice that the provider and practice interacts with for transition of care even though they may not be using iPatientCare.
"The industry challenge my team and I were trying to respond to was providing electronic records across the continuum of care. Most providers/practices needed to deal with fax for referrals and patient charts while serving patients within the transition of care. With iPatientCare P2P, both iPatientCare and non-iPatientCare users would be able to collaborate electronically for scheduling appointments, patient charts, referral management, and referral tracking", said Arnaz Bharucha, Senior Technology Officer, iPatientCare.
About iPatientCare
iPatientCare, Inc. is a privately held medical informatics company based at Woodbridge, New Jersey. The company is known for its pioneering contribution to mHealth and Cloud based unified product suite that include Electronic Health/Medical Record and integrated Practice Management/Billing System, Patient Portal/PHR, Health Information Exchange (HIE), and mobile point-of-care solutions that serve the ambulatory, acute/sub acute, emergency and home health market segments.
iPatientCare EHR 2014 (2.0) has received 2014 Edition Ambulatory Complete EHR certification by ICSA Labs, an Office of the National Coordinator-Authorized Certification Body (ONC-ACB), in accordance with the applicable eligible professional certification criteria adopted by the Secretary of Health and Human Services (HHS).
Full certification details can be found at ONC Certified Health IT Product List.
iPatientCare Inpatient EHR 2014 (2.0) Received ONC HIT 2014 Edition Complete EHR Certification from ICSA Labs, determines ability to support eligible hospitals with meeting meaningful use stage 1 and stage 2 measures required to qualify for ONC Health IT funding under the American Recovery and Reinvestment Act (ARRA).
Full certification details can be found at ONC Certified Health IT Product List.
The ONC 2014 Edition criteria support both Stage 1 and 2 Meaningful Use measures required to qualify eligible providers and hospitals for funding under the American Recovery and Reinvestment Act (ARRA).
The company has won numerous awards for its EHR technology and is recognized as an innovator in the field, being a pioneer to offer an EHR technology on a handheld device, an innovative First Responder technology to the US Army for its Theatre Medical Information System, the first to offer a Cloud based EHR product. iPatientCare is recognized as one of the best EHR and Integrated PM System for small and medium sized physicians' offices; has been awarded most number of industry Awards; and has been recognized as a preferred/MU partner by numerous Regional Extension Centers (REC), hospitals/health systems, and academies.
Visit http://www.iPatientCare.com for more information.