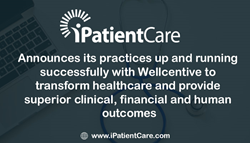 "With this integration, our providers will be able to submit & obtain data from Wellcentive network, which will help us to attain population Care Coordination Management swiftly," said Manoj Diora, CIO, Macomb Physician Group
Woodbridge, NJ (PRWEB) February 29, 2016
iPatientCare, Inc., a pioneer in mHealth and cloud-based ambulatory EHR, integrated Practice Management and Value-Added Revenue Cycle Management Services, is glad to announce its successful integration with Wellcentive to provide superior clinical, financial and human outcomes to its end users.
Wellcentive's platform focuses on the transformation to value-based care for health systems, physicians, accountable care organizations, employers and payers pursuing clinically relevant population health management solutions. The technology aggregates patient data across all points of care, applies analytics to identify and stratify patient health, trends and risk, to proactively manage patient health and forecast outcomes and costs for populations.
With this successful integration, iPatientCare users would be able to submit their patient's data to Wellcentive on a real-time basis which would be available to any other EHR user who has integrated with Wellcentive. This is an important step toward care coordination management where physicians involved at the community level ultimately contribute to the population health management care delivery model.
"iPatientCare strives to make healthcare IT work efficiently at reduced cost. With constant innovations and achievements, we have helped physician practices improve efficiency with the best service to their patients. This successful integration with Wellcentive achieves one more step towards enhanced population health management," said Shahab Shaikh, Chief Integration Officer, iPatientCare.
"We have been using the iPatientCare EHR for many years, and with their interoperability standards and this latest integration with Wellcentive, our providers will be able to submit and obtain data from the Wellcentive network, which will help us to attain population care coordination management swiftly," said Manoj Diora, CIO, Macomb Physician Group
About iPatientCare:
iPatientCare, Inc. is a privately held medical informatics company based at Woodbridge, New Jersey. The company's unified product suite includes Electronic Health/Medical Record and integrated Practice Management/Billing System, Patient Portal/PHR, Health Information Exchange (HIE), and Mobile Point-of-Care Solutions for both Ambulatory and Acute/Sub-acute market segments. iPatientCare has been recognized as a preferred MU partner by numerous Regional Extension Centers (REC), hospitals/health systems and academies, and has been designated as a Test EHR by the CMS.
iPatientCare EHR 2014 (2.0) has received 2014 Edition Ambulatory Complete EHR certification by ICSA Labs, an Office of the National Coordinator-Authorized Certification Body (ONC-ACB), in accordance with the applicable eligible professional certification criteria adopted by the Secretary of Health and Human Services (HHS).
Full certification details can be found at ONC Certified Health IT Product List.
IPatientCare Inpatient EHR 2014 (2.0) Received ONC HIT 2014 Edition Complete EHR Certification from ICSA Labs, determines ability to support eligible hospitals with meeting meaningful use stage 1 and stage 2 measures required to qualify for ONC Health IT funding under the American Recovery and Reinvestment Act (ARRA).
Full certification details can be found at ONC Certified Health IT Product List.
The ONC 2014 Edition criteria support both Stage 1 and 2 Meaningful Use measures required to qualify eligible providers and hospitals for funding under the American Recovery and Reinvestment Act (ARRA).
Visit http://www.iPatientCare.com for more information.
About Wellcentive:
Wellcentive's solutions are built from the ground up to help our customers improve quality, optimize revenue and transform the healthcare process. Our value-driven population health management solution combines our more than 11 years of population health management (PHM) experience with highly scalable cloud-based technology and transformative services to deliver clinical, financial and human outcomes for providers, health organizations, payers and employers. Wellcentive has gained recognition as a leader in population health management in reports by IDC Health, KLAS and Chilmark. We aggregate over one billion data points per month from more than 3,000 interfaces, improving outcomes for more than 30 million lives.