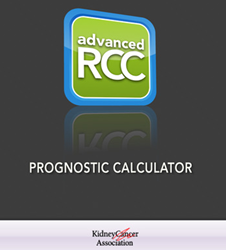 Easily calculate prognostic status using risk factors
Chicago, Ill. (PRWEB) October 20, 2014
"For patients with advanced renal cell carcinoma (RCC), identifying prognostic risk is a key consideration," says Bill Bro, CEO of the Kidney Cancer Association (KCA). "We are pleased that a technology donation from Pfizer Oncology makes it possible for KCA to deploy a unique and easy-to-use smartphone application. KCA was among the first charities to offer a smartphone app for patients, and this donation extends a similar benefit to healthcare professionals."
"KCA has made significant strides in supporting patients with renal cell carcinoma, and our donation is a testament to Pfizer's long-standing commitment to the organization, doctors and patients battling this advanced disease," said Andy Schmeltz, Regional President, North America at Pfizer Oncology. "Even beyond therapeutic advances, Pfizer is always looking to make contributions to the RCC community that will offer meaningful progress in the way we diagnose, treat and support those on the front lines."
Evidence shows that prognostic risk is one of a number of important factors to consider when managing advanced RCC. The NCCN Guidelines™ for Kidney Cancer list prognostic risk stratification as an important consideration.
Easily calculate prognostic status using risk factors based on published MSKCC data or published expanded criteria with the FREE Advanced RCC Prognostic Calculator app, available in the iTunes app store: https://itunes.apple.com/app/id908339456.
KCA is a charitable organization made up of patients, family members, physicians, researchers, and other health professionals globally. It is the world's first international charity dedicated specifically to the eradication of death and suffering from renal cancers. It is also by far the largest organization of its kind, with members in more than 100 countries. It funds, promotes, and collaborates with the National Cancer Institute (NCI), American Society for Clinical Oncology (ASCO), American Urological Association (AUA), and other institutions on research projects. It educates families and physicians, and serves as an advocate on behalf of patients at the state and federal levels in the United States and globally.
KCA was founded in 1990 by a small group of patients, including Eugene P. Schonfeld, Ph.D., and medical doctors in Chicago, Illinois. It is a nonprofit charity incorporated in the State of Illinois. It has also been designated as a tax exempt organization under Section 501(c)(3) of the U.S. Internal Revenue Service code.