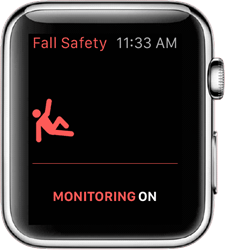 Fall Safety App for fall detection now offered as an extension on Apple Watch and detects falls when paired with iPhone.
(PRWEB) July 28, 2015
The Safety App That Can Save Lives
The Apple Watch is cutting edge and now Tidyware has put it to work as part of a fall detection system. The Apple Watch Fall Safety App gives easy access to the paired iPhone Fall Safety App carried in a pocket or harness pouch to detect falls. The Fall Safety App fall detection solution is available now in the App Store.
Fall Monitoring
Fall Safety App monitors people working at height, while on the job or doing projects around the house. The delightfully animated "fall guy" provides visual feedback showing that the fall monitoring system is active on the phone.
Fall Detection
Falls can cause head injuries that require a rapid response to prevent possible fatality. Since these often make the victim unable to seek help, because they may be unconscious or have a concussion, monitoring can save their life.
When a fall is detected a timer will appear on the watch face, counting down to a call for help.
Fall Alarm
With an Apple Watch a person can conveniently dismiss the fall detected countdown timer using its lightweight interface. If the countdown is not dismissed within 45 seconds of a detected fall the app will automatically notify emergency contacts that help is needed, and will also sound an audible alarm on the phone to alert anyone nearby.
Fall Safety
With the iPhone Fall Safety App, and companion Apple Watch Fall Safety App, people can improve their safety best practices by using the Fall Safety App iOS fall detection solution.