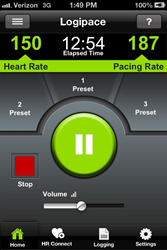 83% of participants improved their performance with Logipace.
(PRWEB) March 06, 2014
For a limited time, iPhone users can receive a free full download of Logipace (a $4.99 value), an easy-to-use athletic app that works to instantly improve the performance of running, cycling and other physical activities.
Logipace was recently shown in a randomized controlled clinical trial to improve a 3-mile run time by an average of 45 seconds for 83% of runners. Participants showed a significantly lower heart rate variability and a slower rise in heart rate, both indicating reduced heart stress.
Using Cardio-Locomotor Synchronization (CLS) to enhance performance of rhythmic activity, as well as lower the stress on the heart and musculature, the Logipace app uses an advanced, patent pending algorithm to record real-time heart rate and determine the optimal pace for the rhythmic activity which falls in a comfortable range for the user.
Playing a beat that specifies when movement should take place, the user can match his or her stride or stroke to the beat, naturally inducing CLS. Breathing is also synced to the heart rate for maximum performance improvement.
CLS has been shown in many published studies to improve the efficacy of the activity, increasing the volume of blood pumped by each heartbeat, reducing blood pressure variability, and lowering maximal oxygen consumption.
Download the Logipace iPhone app for free, or visit http://www.logipace.com for more information.