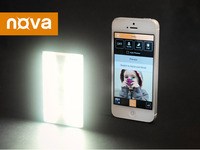 you feel disappointed when photos of your friends have them looking washed out with red eye. The solution is called Nova.
Chicago, Illinois (PRWEB) September 18, 2013
"The best camera is the one that you have with you"—so most likely, it's iPhone. But when photos of friends and family have them looking washed out, with red-eye, lost in the dark or like deer caught in headlights, it's disappointing. The solution is called Nova.
Nova launched on Kickstarter http://kck.st/1dOthan on September 4th and is now 200% funded. This credit card-sized wireless flash will capture the moment just as you remember it by adding soft, natural light so photos are rich with color and depth.
Nova's inventor Joe Walnes, a former Google software engineer and avid hardware hacker, realized that unflattering photos are unavoidable with the flash built into the iPhone, right next to the camera lens. So he created Nova to work via Bluetooth, giving complete freedom to choose the distance, direction and angle from which the light comes.
The standard mode on the free Nova app takes photos with soft, warm or brilliant light, while the advanced mode allows an exact mix of cool/warm and soft/bright light. This neat color light picker ensures shadows are reduced, flattering portraits and that no one is lost in the dark.
The new iPhone 5S has a great camera and a dual LED flash, but Nova takes it further with 40 LEDs, a diffuser and of course all the benefits of being off camera. Nova works with iPhone 4S, 5, 5S and 5C.
Notes
Nova was created by Sneaky Squid LLC in Chicago.
Nova's Kickstarter page http://kck.st/1dOthan
Website: http://wantnova.com/