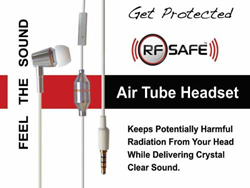 RF Safe Headsets offer iPhone users an innovative way to reduce cell phone radiation exposure by using air-tubes rather than wires to deliver sound to the ears.
Cupertino, CA (PRWEB) March 23, 2014
According to RF Safe, Hawaii's Senate passed Bill 2571 SD1 in February 2014 which could make it first state to require by law that consumers are made aware of potentially dangerous cell phone radiation emissions from wireless devices with cell phone radiation warning labels.
The original version of Senate Bill 2571 SD1 would have required the label to read, "This device emits electromagnetic radiation, exposure to which may cause brain cancer. Users, especially children and pregnant women, should keep this device away from the head and body."
Consumers need to know how an iPhone or smart phone is carried really does matter. When carried in a pocket, purse, or tucked in a bra, iPhone users can be subjecting themselves to dangerous amounts of radiation. These wireless devices are getting more powerful by the day, and where an iPhone is held while in use matters a lot. RF Safe offers users very easy to use iPhone radiation safety accessories that will greatly reduce cell phone radiation exposure.
RF Safe claims most iPhone users have no idea what SAR is or why it's important. Specific Absorption Rate (or SAR) measures the energy absorbed by the human body when exposed to a radio frequency radiation. Electromagnetic radiation generated by 3G, 4G and LTE iPhone devices can only be guaranteed to be in compliance with FCC safety guidelines when following distance restrictions set-forth in Apple's iPhone owners manual (not closer than 10 mm from the body).
In the owner's manual of an iPhone 5 located under a section named - iPhone 5 RF Exposure Information. Online version here: http://www.apple.com/legal/rfexposure/iphone5,1/en/.
Some users might be shocked to know they must "carry an iPhone at least 10mm away from the body to ensure exposure levels remain at or below the as-tested levels".
But wait a minute, says John Coates - Founder of RF Safe, "How many people really hold their cell phones nearly an inch away from their bodies? I don't see people adhering to these safety guidelines at all. When carried in a pocket, the material clothes are made of is completely transparent to microwave radiation" said Coates.
#1 Solution for protecting the brain from iPhone Radiation
RF Safe Headsets offer iPhone users an innovative way to reduce cell phone radiation exposure by using air-tubes rather than wires to deliver sound to the ears.
RF Safe headsets are made to last; speaker components are sealed in strong anodized aluminum and the acoustic ear bud chamber is made from the same ultra-light durable non-corrosive anodized aluminum. RF Safe headsets using this amazing acoustic sound tube technology have a sound smart phone users will love – from a headset built to last.
RF Safe's Air-tube Headset is available for all Apple iPhone models in an array of colors to complement any active lifestyle.
iPhone (1st generation), iPhone 3G, iPhone 3GS, iPhone 4, iPhone 4S, iPhone 5, iPhone 5C, Phone 5S
According to John Coates, "By replacing the wire found on ordinary headsets with patented acoustic air tube technology, the RF Safe headset reduces RF exposure to the head and increases the pleasure of listening to one's favorite music on their smart phone."
The big difference is RF Safe headsets work similar to a doctor's stethoscope, as sound is delivered inside of an air-tube into the ears.
RF Safe is making safety sound better than ever. iPhone users using the newest innovation in radiation safe cell phone headsets also get to experience rich live sound unlike any wired headset on the market today.
Coates says "Many iPhone users are putting microwave transmitters directly against their heads, and carried close to their bodies all day long. The smartest call any smart phone user can make is to ensure they have taken every step to avoid unnecessary health risk."
#2 Solution for protecting the body from iPhone Radiation
"Reducing RF exposure to the brain is addressing only part of the iPhone radiation, when carried in a pocket, the phone is often closer than the 10mm distance between the phone and users body, as instructed in the iPhone's user manual," Coates adds.
One of the best things about RF Safe's Flip Case Phone Radiation Shields is that it is entirely discreet smart phone radiation protection. The entire flip case from the exterior looks and feels like any other high-end quality Smartphone flip case but that is where the similarities end.
RF Safe Peel n Shield™ microwave shielding technology is added to the inside of the front flip cover to deflect excessive radiation exposure way from the user. .
RF Safe claims there are several good reasons for only shielding the front of the cell phone case flip cover. It's common in smart phone design that the antenna is located on the back of the phone behind the touch screen. RF Safe flip case covers shield the entire front of the phone creating a barrier that radiation cannot penetrate between the front of the cell phone and user.
The Flip case with Peel n Shield™ cover shield offered by RF Safe comes in very handy indeed. The flip cover has shielded cut outs for the earpiece, so you can talk and hear clearly on the phone with the flip cover closed so there is a shield between the user and cell phone even when used to the ear. The entire flip cover is shielded with special shielding that deflects cell phone radiation, the same way the screen in front of a microwave over deflects radiation.
Learn more about iPhone accessories to reduce cellphone radiation and other proven way to protect you and loved-ones from excessive microwave radiation exposure, please visit http://www.rfsafe.com.